Minton Majolica is a hugely colourful area of the antiques world – full of rarities, curious subjects and genuine treasures.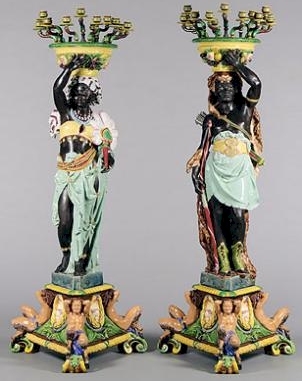 A display of Majolica always surprises. It's such an evocative name that collecting societies, dealers and auctions have been celebrating its splendour since the late 1980s when the market started to boom.
The word Majolica is actually a corruption of the word 'Maiolica', an Italian word used for Spanish lustre pottery sourced from Majorca. Majolica in essence, is a form of earthenware that was first developed and introduced by Minton to the wider world via the Great Exhibition at the Crystal Palace in London in 1851. It was richly modelled and the biscuit body was dipped in tin enamel glaze, then decorated with clear glaze, coloured with metallic oxide.
Though there were later names associated with the style, Minton was the company behind Majolica's key development. The pottery was founded in 1793 by Thomas Minton in Stoke-on-Trent. Ever since, the company has been associated with finest of earthenware and bone china tablewares and, in particular, they popularized the legendary so-called Willow pattern.
Minton Majolica was originally designed for the English garden. It was Thomas's son, Herbert, who in 1849, together with the top French ceramic chemist, Leon Arnaux, spearheaded this revolution at the company. They realised the benefits that their new lead glaze would have in weather proofing the ever-popular garden ornaments of the day: from garden seats and umbrella stands, to urns and fountains.
The richness and shimmer of the technique didn't go unnoticed and the company adopted Majolica for the dining room table of Victorian Britain. Arnoux's involvement at the firm lured in other top French artists including the sculptor Carrier de Belleuse, Antoine Boullemier and Marc-Louis Solon. Their work went down a storm and the often rustic shapes and colours proved a constant surprise.
Modern day Majolica is a popular and precious ceramic. It is an enduring 'heavyweight' of the antique market, though prices have fluctuated: most recently because of world events. The auction houses of England are a good place to get a feel for the current climate.
Sotheby's hold the world record for Majolica. In July 2002 the hammer came down on an exceptional pair of 'blackamoor' figures complete with stands, at their Olympia saleroom. The original design for these exotic characters was believed to have been a 17th century engraving by Jean le Pautre. Continuing the strong French connection, the pieces were modeled by Albert Carrier de Belleuse. These have been described as some of his most fascinating and bold works in pottery.
Minton: The factory founded by Thomas Minton in 1796. At first pottery only was made but soft-paste porcelain was produced probably as early as 1798. In 1817 Minton took his sons into the business and the firm traded as Thomas Minton & Sons. The father died in 1836 and John Boyle entered the firm which then became known as Minton & Boyle until 1845 brought a new partner, Michael Hollins, and a new style, Minton Hollins & Co. In 1883 the present style of Mintons Ltd was adopted.
Porcelain was not produced in any great quantity at Minton in its early years, but about 1825 several Derby artists took employment with the firm and output-and quality-increased. Sevres provided a recurring inspiration which extended to the marking of many pieces. Parian ware was a noted product from about 1845; and Marc-Louis Solon, who had been with S6vres, introduced the celebrated pate-sur pate technique. It is generally agreed that Minton made some of the best porcelain produced in England during the Victorian period-and indeed they still produce porcelain of fine quality.
During its history of nearly two hundred years from 1796, this very important Stoke firm with an international reputation has traded under various trade styles.
Thomas Minton c.1796
Minton and Poulson c.1796-1800
Minton, Poulson and Pounall c.1800
Minton Poulson and Co. c.1801-2
Minton and Poulson c.1802-8 (second time)
Thomas Minton c.1809-17
Thomas Minton and Sons c.1817-27
Thomas Minton and Son c.1824
Thomas Minton (second time) c.1824-36
Minton and Boyle c.1836-41
Herbert Minton and Co. c.1841-45
Minton and Hollins c.1845
Herbert Minton and Co. (second time) c.1847-73
Mintons c.1873-84
Mintons c.1884
Since Herbert Mintons death in 1858, no Minton has been connected with the firm that earns this respected name to the present day
More: Majolicasociety.com