Limoges was produced by a number of factories in France from the late 1700s until around 1930.
When valuing a piece, looking at the quality of the decoration can often be more important than determining the age.
From the mid-19th century to the beginning of the Great Depression, Haviland Limoges dinnerware was extensively marketed in America.
There are currently few Limoges reproductions on the market.
Limoges History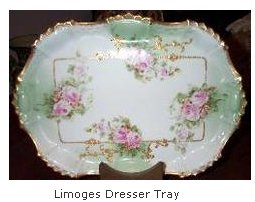 The Limoges porcelain sought by collectors today was actually produced by a number of factories in the Limoges region of France from the late 1700s until around 1930. Production did not cease in 1930, however. This arbitrary cutoff date simply denotes a change in the global economy when the styles of Limoges wares notably changed from very elaborate to more basic in design.
At one point in the 1920s as many as 48 companies were producing wares marked Limoges, according to ceramics expert Mary Frank Gaston. These pieces weren't only marked Limoges denoting their origin, however. Many pieces had factory marks and even marks showing who decorated each piece.
It's important to understand, however, that the factories operating in the Limoges region produced elaborately molded white wares as their primary output. These undecorated pieces, also known as "blanks," were taken to decorating studios away from the factory or exported without decoration. The blanks exported to American soil often ended up in the hands of eager china painting students, with this being a popular hobby for ladies during the late 1800s.
Valuing Limoges
Questions to ask when valuing Limoges items:
Is the decor top-notch in terms of quality?
Does it have finely detailed hand painting?
Is it signed by the artist?
Is it decorated with transfers?
Naturally, with some of the Limoges pieces being decorated by amateurs, collectors sometimes notice a variation in the quality of the décor. When valuing Limoges pieces, this should be taken into consideration. High quality hand painting holds more value than the work of an unskilled porcelain painter. If a skillfully decorated piece is signed by the artist, it can be worth even more.
Some pieces of Limoges porcelain were decorated with transfers as well. These transfers were decals of sorts that mimicked hand decorating and were often combined with techniques executed by hand. Even a beautifully transferred piece will hold more value than a poorly executed hand-decorated item. Generally, however, collectors prefer hand decorated pieces and will pay premium prices to procure nice examples.
Limoges in America
The Limoges porcelain found most often by collectors in antique malls and shops these days largely represents the American version of early Limoges, with Haviland being a prominent name. In fact, status-conscious brides often chose Haviland dinnerware sets as their wedding china in the late Victorian period, according to Gaston.
Clever marketers for the Haviland company did research in the U.S. noting the popular designs, colors and types of tableware used in this country, which differed greatly from European preferences. From the mid-19th century to the beginning of the Great Depression, Americans extensively used Haviland Limoges dinnerware on well-set tables. This accounts for so many sets that have been passed down from grandmothers and great-grandmothers to their lucky families.
Collecting Limoges
Some porcelain collectors solely concentrate on Haviland products and largely ignore other Limoges company names. Others focus on a broader range of Limoges items from a variety of manufacturers. They move away from the quaint dinnerware toward decorative accessories such as vases, trays, and tankards which generally feature more vivid coloration and an abundance of decorative gold trim.
When evaluating Limoges, Gaston says looking at the quality of the decoration can often be more important than determining the age. But since both are important, her book identifies numerous factory marks with dates of production as a good starting point for researching Limoges pieces. Not all factories could be listed, however. Some companies were in business for only a short time long ago and the company records no longer exist.
Although Limoges pieces have remained popular with collectors for many years, there are few reproductions on the market. So if being victimized by fake antiques generally worries you, consider Limoges as a collecting choice. Once you begin to notice this attractive porcelain with timeless elegance, and pick up a few pieces to enjoy you'll have an investment quality collection in no time.
Limoges Porcelain Marks
How to Identify French Limoges Porcelain Marks
Many treasure hunters regularly visit antique stores, flea markets, garage sales and auctions trying to find a collectable that is not only beautiful, but also authentic. Many porcelain pieces are labelled as "Limoges" or "French Limoges." Real French Limoges is a porcelain item manufactured in Limoges, France. When determining if the trinket you have your eye on is really a treasure, you can authenticate that it was manufactured in Limoges and determine the time frame in which it was made by checking the mark on the bottom or back of the piece.
Turn over your piece and check for an impressed "AE" mark. This porcelain is among the oldest French Limoges made. This mark was used by the Allund factory from 1797 to 1868. In 1868, the company that manufactured these pieces changed ownership and the mark was changed. Between the years 1868 and 1898, three different marks were used by this manufacturer: "CH Field Haviland, Limoges," "CHF" and "CHF/GDM." Several factories owned by the Haviland family began to produce Limoges porcelain and many different marks were used after 1898. During this time the company's marks were "GDA," "H & CO/L," "Haviland & Co. Limoges," "H & CO/Depose," "Theodore Haviland, Limoges, France" and "Porcelaine."
Look for a mark in red or green. The Bawo & Dotter company of New York established a manufacturing facility in Limoges, France, called Elite Works. That factory began producing porcelain in 1892 with the mark "Elite France" and later "Elite Works France." Some Elite Works collectibles can be dated by the colour of the mark. Between 1900 and 1914 the company marked items in red and between 1920 and 1932 the company used green to mark the pieces it manufactured.
Learn company names that did not include "Limoges" as part of their marks. There were smaller factories that marked porcelain produced in Limoges simply with the company name. Among these are M. Redon (1853), A. Lanternier (1885), and C. Ahrenfeldt (1886). C. Ahrenfeldt also occasionally used the mark "France C.A. Depose."
Examine symbol marks with a magnifying glass. Some Limoges manufacturers incorporated pictures into their marks. Martin Freres and Brothers used a bird with a ribbons in its mouth, one of which read "France." R. Laporte's mark was of a butterfly above the letters "RL/L." One very simple mark was used by the Latrille Freres factory that was set up in an former abbey; it is a simple star surrounded by the words "Limoges France." Printing within these symbols can be difficult to read.
Tips and warnings
The porcelain manufacturer's mark will be under the glaze and directly on the porcelain. This mark is added before any decoration has taken place and is called a "whiteware" mark. Any marks made over the glaze were added by the decorator, importer or retailer.
The McKinley Tariff Law went into effect in 1891 and all imported goods after that time were required to be marked with the name of the country of origin. All Limoges items lacking the word "France" were manufactured before 1891.
Remove any lid before checking for a mark, you don't want to damage your piece, or have to purchase a piece you didn't want.
Authentic French Limoges porcelain since late 19th Century may have a variety of marks:
MAKER: The mark of the factory in Limoges that casts and fires the porcelain to make the white porcelain blank or whiteware is under the glaze or impressed into the porcelain. The makers mark is often just Limoges France in various scripts and colors. Since c1891, US law has required the country of origin to be marked on imported goods, but authentic pieces not intended for export often lack the France mark.
DECORATOR: A decorator's mark will be over the glaze and subject to wear. When the maker also decorates the piece, they may add a second decorator mark, or it may have one mark for pieces it intends to decorate and a different mark for pieces to be sold as undecorated blanks or whiteware. Decorating companies often have a stamped or printed mark, but some hand write marks. Individual artists and small studios normally hand write marks. Porcelain painting was a very popular hobby around 1900, and a lot of porcelain was decorated and signed by hobbyists. The decorating mark commonly includes an indication of how it was decorated: Peint main for hand painted, Rehaussee main for hand highlighting of decal decoration, decor main meaning something was done by hand. Some older porcelain marked peint main or hand painted is actually just highlighted – always judge the work, not just the mark.
IMPORTER: The larger importers usually are involved in design and decoration and brand their Limoges boxes. Some importer marks are Sinclair Limoges, Rochard, Chamart, La Gloriette, Rose Decor, and many more.
RETAILER: Some pieces also have the name of the retailer, such as Nieman Marcus or Tiffany, who was probably also the importer.
Credits
Jo Pilcher
http://e-limoges.com/