The early part of this period is described as the Golden Age for pewter manufacture, a time when even grand houses used pewter as well as silver for domestic use and a time which preceded the introduction of mass-produced ceramic wares, which ultimately replaced pewter, especially plates and drinking vessels.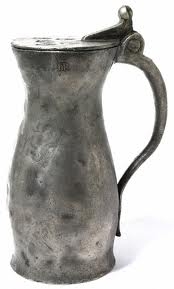 Items from this period are obviously much rarer than those from the 19th century. At the bottom end of the market, damaged and worn pewterwares were often melted down and the metal re-used. Changes in standards for liquid measures also made items redundant and if they could not be modified, these were also abandoned or destroyed. Nevertheless, there are many superb pieces still around from this era and most collectors will soon strive to acquire examples. Sadware – plates, dishes and chargers – are the most plentiful and these often have clear and interesting makers' and other marks.
It is common nowadays for what is described as 'sadware', to be referred to as 'flatware', although the latter more properly refers to forks, spoons, etc. Along with 'hollowware' for mugs, cups, flagons, etc., both terms are understood.
Early pewter
Much of this has been excavated or found in rivers and other waterways and as such often has archaeological interest. Items are however, rare and are correspondingly more difficult to find. All depends on the individual collector, his or her interests, persistence and especially pocket!