Carnival glass is pressed and iridized glass manufactured between 1905 and 1930. It was made by various companies in the United States, England, Germany, France, Australia, Sweden, Finland and Czechoslovakia.
Carnival was produced in an effort to compete with art glass. The person who was unable to afford Tiffany would now be able to purchase beautiful glass at affordable prices. Carnival was manufactured by applying metal salts to the glass prior to it being fired. The metal salts would then melt and create the beautiful colours (iridization) found on the glass.
There were many manufacturers both in the US and abroad. Originally manufactured in the early 1900's, production continued until 1930. Then in the late 1950's there was a resurgence of carnival. The Imperial Glass Co. started to reproduce the glass. There are others that also produced the glass during this time. The Fenton Glass Co. also started reproducing about this time, and still produces a line today.
The newer glass is different than the old carnival due to the different methods and materials used to achieve the iridization.
Many collectors feel that this reproduced line of glass is not true carnival. Both Fenton and Imperial put distinctive marks on the new glass so that there would be no confusion. Some of the other companies like Boyd and Smith also marked their glass. But beware, there are those out there who are reproducing the patterns.
The iridization was achieved by a spray process on the surface of the glass before firing, producing a beautiful product at a reduced cost.
To tell the true colour of a piece of carnival glass, hold the piece to a strong light. The base colour you see is the colour of the piece. The colours given off by the iridescence have nothing to do with the true colour of the glass.
Most carnival glass items can be found with a satiny finish that has many coffered highlights across the surface like oil on water, but another very popular developed by the Millersburg company and used by all other makers in limited amounts.
This is called "radium finish" and can be recognized by its shiny mirror-like lustre on the surface. Often with radium-finish the exterior of the piece has no iridization and the piece has a light, watery shine.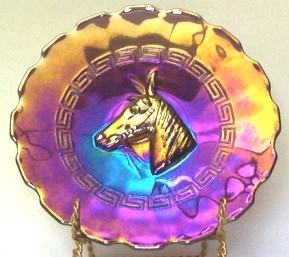 Beyond that some items – especially pastels such as white, ice blue, and ice green – have a frosty look. This treatment is always satin, never radium. Finally, there is the addition of the milky edge on treatments that are called opalescent. Added to the Marigold finish, this is called "peach opalescent." With the ice blue, it becomes "aqua opalescent." Other opalescent treatments with carnival glass are blue opalescent, amethyst, lime green, ice green, Vaseline and red opalescent.
When collecting carnival glass, it is best to study and handle many pieces first to distinguish new pieces from old. Hold the pieces to the light and learn the true colours. Study the patterns – there are many. Finally, purchase a good value guide and learn what pieces are easy to find and what pieces are rare. As always, the condition and rarity of the piece determine the price.
The Fenton Art Glass Company was founded in 1905, and was the first and largest producer of carnival glass, producing many different pieces in over 150 patterns. They were well known for quality, and were among a very few makers who made red carnival glass. After interest waned in the late 1920s, Fenton quit producing carnival glass for many years, but due to a resurgence in its popularity, Fenton produces carnival glass today.
Identification of carnival glass is frequently difficult. Many manufacturers did not include a maker's mark in their product, and some did for only part of the time they produced the glass. Identifying carnival glass involves matching patterns, colors, sheen, edges, thickness, and other factors from old manufacturer's trade catalogs, other known examples, or other reference material. Since many manufacturers produced close copies of their rivals' popular patterns, carnival glass identification can be challenging even for an expert.
To tell the true colour of a piece of carnival glass, hold the piece to a strong light source. The base colour you see is the colour of the piece. The colours given off by the iridescence have little or nothing to do with the true colour of the glass. The pieces colour is by far the most important feature and also sometimes the most difficult to classify. Not all pieces come in all colours.
Here are a few of the basic colours. Marigold is by the far the most used colour in carnival glass.
Marigold – A golden yellow colour (most look like old gold)
Amethyst – A purple colour from quite light to quite dark
Green – A true green, not a pastel colour
Blue – A true blue, not a pastel colour
Peach Opalescent – Marigold with a milky (white or colored) edge
Aqua Opalescent – Ice blue with a milky (white or coloured) edge
Pastel Colours – A satin (frosty) treatment in white, ice blue, ice green
Red – A true red, rare colour but some were made
Black Amethyst – Very dark purple or black in colour
Vaseline – Clear yellow/yellow-green glass, glows in black light
Clambroth – Pale ginger ale colour
Bowls and plates are easy to understand, as are pitchers, tumblers, and vases; but even these have variations. Bowls can be ruffled, unruffled (shallow unruffled bowls are called ice cream bowls), deep, or shallow. Pitchers can be standard, smaller (milk pitcher, taller (tankard), or squat.
Tumblers can be standard size, tall (lemonade), or small (juice), even as small as a shot glass. Vases can range in size from tiny 4 bud vases to monster 22 sizes called funeral vases (any vase over 16 tall is considered a funeral vase).
Vases may be straight topped, flared, or JIP (jack-in-the-pulpit) shaped with one side down and one side up. In addition there are table sets, consisting of a creamer, sugar, covered butter dish, and spooner (a spooner has no lid).
There are decanters and stemmed goblets of several sizes; rose bowls, evident by the lips being pulled in equally around the top of the piece; candy dishes that have the rims flared out; and nut bowls that have the rim standing straight up.
There are banana boats that are pulled up on two sides, baskets that have handles, bob-bons that have handles on opposite sides, and nappies with only one handle. In addition there are berry sets (small and large bowls that are deep and usually come with one large bowl and six small ones), orange bowls (large footed bowl that holds fruit), handled mugs, and plates (these are shallow without any bowl effect, coming straight out from the base and no higher from base to rim than 2).
Specialized shapes include candlesticks, hatpins, hatpin holders (footed piece with the rim turned in to hold hatpins), epergnes (pieces that hold flower lilies), card trays (flattened bon-bons or nappies), toothpick holders, cracker and cookie jars with lids, stemmed compotes (or comports as they were originally called), hair receivers, powder jars with lids, as well as many, many novelties that include paper-weights, animal novelties, and wall pocket vases. Punch bowl sets, which consist of a punch bowl, standard or with base, and matching cups.
These are all the general shapes of carnival glass. In addition there are many, many specialty shapes that include light shades, marbles, beads, beaded purses, odd whimsy shapes of all sorts that have been fashioned from standard pieces, pin trays, dresser trays, pickle casters in metal frames, and brides baskets. The list of shapes is almost endless and the beginner should study these and ask other collectors about odd pieces they can't identify.