Pictured: Gordon M Forsyth – image from Art and Craft of the Potter,
GM Forsyth, 1934, courtesy Chapman & Hall
Ann Eatwell wrote an extensive scholarly treatise on Gordon Forsyth which was published in The Journal of the Decorative Arts Society 1850 to the present, Number 13 (1989): 'Artists as Educators'. Her opening sentences read thus: "The distinguished career of Gordon Forsyth which spanned over forty years left an indelible mark on the ceramic industry of Staffordshire. It was there on the owners and managers of the factories, on their designers, craftsmen and decorators, and more importantly on the standard, quality, and achievement of British ceramic design between the wars".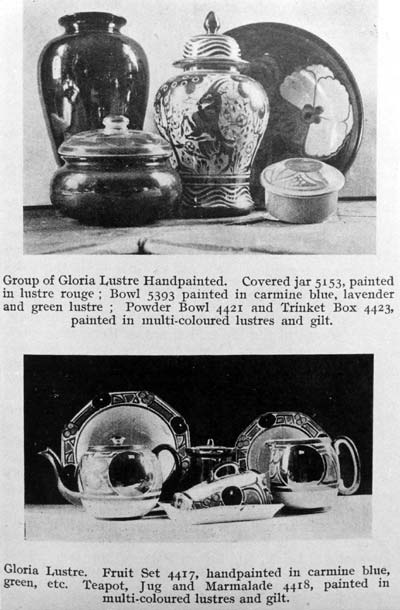 A pupil of Gray's School of Art in Aberdeen and then London's Royal College of Art, he became Art Director at Minton Hollins in Stoke-on-Trent and then took the same position at Pilkington Tile & Pottery near Manchester. His later work on Gloria Lustre for Gray's Pottery draws significant parallels with his Pilkington work. By 1920 he was back in Stoke-on-Trent in his most influential appointment: that of Superintendent of Art Instruction for Stoke-on-Trent City Art Schools.
It is possible that Forsyth and Gray first met in the Manchester area – Gray would still have been working at Stephensons when Forsyth joined Pilkingtons. Art and business interests may have brought them together then. However, they certainly developed a life-long friendship when they encountered each other through the Ceramic Society Art Section in the Potteries in 1919. In a long and candid letter dated 19th December 1950 to Gray, Forsyth writes:
"I was delighted to see your handwriting after many days as it recalled many interesting times. The old Ceramic Society, The Orthopaedic Bazaar, The Wedgwood Bi Centenary, hosts of other bits of good work for the industry that is not forgotten – or likely to be.
You will remember the Art Exhibitions in the Stoke Town Hall and old George Buttle. I think I see him now chuckling to himself when a picture by John Sargent began with being a centrepiece and moved step by step towards the door ….
(Comments on the Potteries Art Schools): …. the new man Marlow is doing good work and doing his best to putting the schools back to their proper function.
The home trade is practically blacked out as far as Art is concerned except for the work of a very few Studio potters and the export trade is wholly in the hands of foreign buyers and their standard of judgement is just deplorable.
The waste of skilled craftsmen is criminal."
DESIGNS
Ann Eatwell suggests in her text that Forsyth was freelance designing for AE Gray & Co Ltd from 1921 until possibly 1930. These dates are as good a projection as can be deduced from the available evidence: Gray and Forsyth were conscious of the benefit of hand-painted design and the second galleon backstamp (mark H), introduced in 1921, was the first Gray's Pottery backstamp to incorporate the words 'Hand Painted'.
1923 sees Press coverage of Gray's products associated with Gordon Forsyth:
An outstanding feature (on the Gray's Pottery stand at the British Industries Fair) will be the Gloria Lustre, wherein the firm have utilised in some measure the services of Mr Gordon Forsyth (Pottery and Glass Record, February 1923, page 358).
… hand-painted lustres, designed by Mr Gordon Forsyth (The Pottery Gazette and Glass Trade Review, April 1923, page 656).
Gloria Lustre continued until 1928 and it may be that Forsyth ceased his freelance work with Gray's Pottery at around this time, a time when personnel changes were taking place; Susie Cooper left at the end of 1929 and Sam Talbot was becoming established as Art Director.
Forsyth is renowned for his sumptuous lustre work at Pilkington's Royal Lancastrian Pottery. It is characterised by its mediaeval motifs, heraldic symbols, sailing ships and lions rampant and above all, its rich colouring. It is therefore not surprising that similar designs and motifs on Gray's Pottery products are thought to be his – or Susie Cooper's. All that can be said is that lustre patterns numbered in the range 2800 to 7200, especially when accompanied by the Gloria Lustre backstamp E, may be from the hand of either Cooper or Forsyth. However, non-lustre patterns in this range are almost certainly not by Forsyth. 'Heraldic' designs on items with the wide clipper backstamp are post-Second World War and therefore definitely not by Forsyth or Cooper
The mystical rebus found on patterns between numbers 5050 and 7200 may relate to Forsyth in some way. Pilkington used elaborate designers' monograms and date marks, this may have been adopted at Gray's Pottery for special patterns and items, but as yet, nothing conclusive has emerged