Edmé Samson, born in Paris in 1810, established the porcelain company of Samson-Edmé et Cie in 1945. Samson began his career by producing replacement pieces, from museums and private collections, which it assured would be clearly marked to avoid confusion with the originals.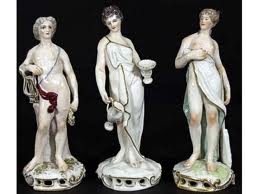 All wares were reproduced in a glossy, hard-paste porcelain. but it soon became obvious that his skill at reproduction resulted in superb copies of the original.
Edmé Samson specialised in the reproduction of Chinese export style porcelain from the period when it was fashionable for aristocratic families to order their services and shapes from southern China.
The range of wares included copies of 18th-century porcelain from such factories as Sèvres, Chelsea, Meissen and Derby, Chinese export-wares, especially armorial wares, Delftware, Iznikware, majolica and faience.
He was a decorator of porcelain and his son Emile was a potter. The factory was located in Montreuil with a salesroom in Paris, and from it have came clever copies of Oriental and European porcelains. Some of the work is excellent as far as technique is concerned, and it includes their own private mark in addition to the marks of the factories whose productions they imitate.
At one time the factory employed more than two hundred skilled workers, and is still in existence. Copies of antique faience, enamels and bronze work are included in their work.
By the middle of the 19th century Samson was producing porcelain in all shapes and styles in imitation of all the major European factories, as well as Japanese Imari and the famous Famille Rose and Famille Vert styles produced in China between 1720 and 1790.
In the 19th century Samson porcelain was considered as copies only, but now, Samson copies are antique, being over 100 years old.
In 1864 the founder's son moved the company to Montreuil, and it remained in production until 1969.