Shakespeare's reputation as dramatist and poet actor is unique and he is considered by many to be the greatest playwright of all time, although many of the facts of his life remain mysterious.
William Shakespeare was born in Stratford-upon-Avon in Warwickshire and was baptised on 26 April 1564. His father was a glovemaker and wool merchant and his mother, Mary Arden, the daughter of a well-to-do local landowner. Shakespeare was probably educated in Stratford's grammar school.
The next documented event in Shakespeare's life is his marriage in 1582 to Anne Hathaway, daughter of a farmer. The couple had a daughter the following year and twins in 1585.
There is now another gap, referred to by some scholars as 'the lost years', with Shakespeare only reappearing in London in 1592, when he was already working in the theatre.
Shakespeare's acting career was spent with the Lord Chamberlain's Company, which was renamed the King's Company in 1603 when James succeeded to the throne. Among the actors in the group was the famous Richard Burbage. The partnership acquired interests in two theatres in the Southwark area of London, near the banks of the Thames – the Globe and the Blackfriars.
Shakespeare's poetry was published before his plays, with two poems appearing in 1593 and 1594, dedicated to his patron Henry Wriothesley, Earl of Southampton. Most of Shakespeare's sonnets were probably written at this time as well. Records of Shakespeare's plays begin to appear in 1594, and he produced roughly two a year until around 1611.
His earliest plays include 'Henry VI' and 'Titus Andronicus'. 'A Midsummer Night's Dream', 'The Merchant of Venice' and 'Richard II' all date from the mid to late 1590s. Some of his most famous tragedies were written in the early 1600s including 'Hamlet', 'Othello', 'King Lear' and 'Macbeth'. His late plays, often known as the Romances, date from 1608 onwards and include 'The Tempest'.
Shakespeare spent the last five years of his life in Stratford, by now a wealthy man. He died on 23 April 1616 and was buried in Holy Trinity Church in Stratford.
The first collected edition of his works was published in 1623 and is known as 'the First Folio'.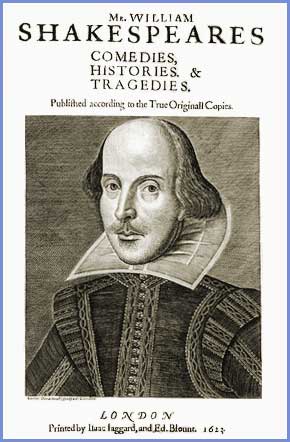 A comprehensive description of the First Folio
The "First Folio" is of major importance to William Shakespeare as it is the first collected edition of Shakespeare's plays without which there would be no William Shakespeare. This section is therefore entirely dedicated to information about this important document – commonly referred to as The First Folio. Click the following link for information about the Droeshout Engraving the picture of William Shakespeare which appears on the First Folio. This famous picture on the First Folio is shown above. Publishers used the ' First Folio ' to print copies of the plays. Other Folios were printed in 1632, 1663, 1664 and 1685.
What did the First Folio contain?
The First Folio contained approximately 900 pages containing 36 of William Shakespeare's plays. It was entitled "Mr. William Shakespeare's Comedies, Histories & Tragedies". The front cover of the First Folio, as shown in the picture at the top of this page, displayed a copper engraved image of Shakespeare by the engraver Martin Droeshout. It must be remembered that during William Shakespeare's era that only engravings could be used to illustrate such documents, it was not possible to reproduce paintings of portraits. The First Folio excluded 'Pericles and The Two Noble Kinsmen'. The second printing of the 1663 folio included the first publication of Pericles, Prince of Athens.
Who was responsible for compiling play collection?
William Shakespeare's fellow actors, John Hemminge and Henry Condell, were the editors of the collection. The plays were categorised as Comedies, Histories and Tragedies. William Shakespeare mentioned both actors in his will "my fellows John Hemynges Richard Burbage & Henry Cundell," leaving them 26s..8d to "buy them Ringes." It is therefore not surprising that they were involved with the publication of the First Folio. They, no doubt, had copies of the plays in Quarto text in the format of Fair or Foul copies. It was from these that content of the First Folio would have originated.
Who was the First Folio dedicated to?
The First Folio was dedicated to William and Philip, the sons of the Earl of Pembroke and Mary Sidney Herbert, Countess of Pembroke
Who published the First Folio?
The Printer and Publisher of the First Folio was William Jaggard and his son Isaac with Ed. Blount. Printing the collection of the First Folio must have been a massive task as it consisted of 36 plays and over 900 pages. The manuscripts needed to have been written in such a way that the content of each play, and each page of the play, were kept in a strict order during the printing process. During this era there were no copyright laws but printers could ensure that others could not print books that they had rights to by entering them in the Stationers' Register. The content of the First Folio was registered on 8th November 1623. Registration also provided an opportunity to invoke a form of censorship and the means to suppress too much freedom of thought and criticism of the crown and public affairs. Approximately 500 copies of the ' First Folio ' were printed at the price of £1 for each copy. Approximately 238 known copies exist today of which a third are in the Shakespeare Folger Library in Washington. The First Folio was printed seven years after the death of William Shakespeare in 1616. Several further editions of William Shakespeare's works were published in the course of time.
William Shakespeare never published his plays
William Shakespeare never authorised the publication or printing of any of his own plays. Plays were sold by the playwright to the acting company i.e. William Shakespeare would have sold his plays to the Chamberlain's Men, later called the King's Men. There was huge rivalry between the acting troupes and because there was no such thing as copyright in the sixteenth and seventeenth centuries playwrights and theatrical troupes tried to keep their plays out of print. Any rival troupe who managed to obtain a copy of a play – see information about quarto editions – and bring it to production would seriously impact the profits made by the originating troupe! Therefore, any plays were produced prior to any printing. The other catch of course was that any printed versions became the property of the printers! The printers would buy the manuscript from the the playwright, the theatre troupe, or even an individual who had obtained or reproduced a copy of the text with or without the authorization of the playwright.
Manuscripts by William Shakespeare? The First Folio
Not one manuscript written by William Shakespeare has survived. Elizabethan Playwrights would often first produce drafts of plays for the actors (these are often referred to a ' foul papers '). They might also provide actors with a prompt book. Prior to printing, plays in the format of ' Foul Papers ' or ' Fair Papers' (clearer copies), which had been produced by the author would be given to scribes to transcribe. This ensured that manuscripts requiring printing contained clear handwriting ( Fair Copies ). It was essential for printers to set the type correctly before they embarked on the printing process. The name of this type of manuscript was called a folio. The scribe attributed to producing the manuscripts of William Shakespeare's plays was called Ralph Crane and the 1623 collection of William Shakespeare's plays was called the 'First Folio', for obvious reasons.
The Huge Demand for Plays! Plagiarism! Quarto Texts!
Plays were big!! There was money to be made!! There was a constant demand for new material!! Rivalry between the Playhouses was enormous!! As soon as a play had been written it was immediately produced – printing followed productions! So the actors initially used ' foul papers ' or prompts. Rival theatre companies would send their members to attend plays to produce unauthorised copies of plays – notes were made and copied as quickly as possible. Alternative versions of plays were produced! These unauthorised and inferior text copies of William Shakespeare's plays are called Quarto Texts.
Manuscripts – A Quarto
A Quarto is a sheet of paper folded in half and then in half again – thus creating four quarto sections. The reverse of the paper was also used for writing giving eight sections in all. Each of these eight sections would be used as a page. The text on a Quarto was very basic with some stage directions but did not include the detail of a First Folio page. These are referred to as Quarto Texts.
Manuscripts – A Folio
A Folio is made up of ' quires ' i.e. 6 leafs of paper folded in half with text on both sides, thus giving twelve pages which are eventually sewn together. Folio pages contain 'rule lines' which divide the page into two columns, some text ornaments on first letters of pages, some scene and act divisions. Some page numbers are included on the top of the page but the order of pages are confirmed on the bottom of the page by the 'signature' which consists of the quire letter (A-Z) the leaf number (1-6) and the side of the leaf (R or V) recto or verso a typical 'signature' might therefore read B4V. A 'Catchword' is also displayed on the bottom right hand side of each page which consists of the first word of text to appear on the next page of the play.
Variations due to Quarto Text – Foul Papers
The are many variations to the text of many early editions of Shakespeare's plays. Eighteen of the William Shakespeare plays exist in earlier quarto editions, eight of which quarto editions are extremely corrupt, possibly having been reconstructed from an actor's memory or from rough drafts or ' Foul Papers ' and obviously drafted in quarto text prior to the First Folio. Printers also sold their products and often made changes to appeal to potential customers, paying little concern to the author's views on any changes! The Two Noble Kinsmen rarely appear in modern Published Editions of the works of William Shakespeare.
The Martin Droeshout Engraving – The Picture on the First Folio
The engraving of the Bard's image on the First Folio is the subject of much debate and controversy. The copper-engraving picture of William Shakespeare is signed Martin Droeshout on the title-page of the ' First Folio ' (1623). It must be remembered that during Shakespeare's era that only engravings could be used to illustrate such documents, it was not possible to reproduce paintings of portraits. So why the controversy ? Take a look at the image on the title-page of the ' First Folio ' of the at the top of the page. At first glance it reflects our view of what Shakespeare probably looked like. But take a second look at the title-page of the ' First Folio ' – the face is out of proportion – the clothes are wrong – the body looks like that of a child and there are other mysteries attached to the First Folio…
DOCUMENTED REFERENCES (KNOWN FACTS ABOUT WILLIAM SHAKESPEARE)
There are over 100 references to William Shakespeare and his family in Public records such as Registrar and Court records containing wills, baptism, marriage and Death certificates, all known facts and information. There are also records of legal and business transactions including some theatrical and Court documents which also relate to facts and information about William Shakespeare. These are all authenticated facts about William Shakespeare. There are also documented references made about Shakespeare by some of his contempories. We have detailed many of these facts, information and references in this section. Facts about the ancestors and family of William Shakespeare can be accessed via the William Shakespeare Biography section. The life and times of William Shakespeare are fascinating but are best understood if viewed in relationship to world in which Shakespeare lived which is why we have also included comprehensive William Shakespeare Biography, information, Timeline and facts. The timeline sections consist of known facts and information about William Shakespeare and provide a quick reference guide to specific areas and known facts about his life.
DOCUMENTED FACTS AND INFORMATION
Facts and information 1564 – 1595
1564, 26th April – William Shakspere of Stratford Parish Register of Holy Trinity Church Baptismal record. An entry in the Stratford Parish baptismal register reads, "Guliemus filius Johannes Shakspere"; that is, "William son of John Shakspere"
1582, 27th November – Marriage license record. An entry in the Bishop of Worcester's Register, Worcestershire Record Office, recorded the grant of a marriage license to "wm Shaxpere et Anna whateley"
1582, 28th November – Marriage license bond, Bishop of Worcester's Register, Worcestershire Record Office. The bond is for the marriage of "willm Shagspere and Anne hathwey," under the special condition of a single asking of the banns.
1595, 15th March – Royal record.The Accounts of the Treasurer of the Chamber "To William Kempe, William Shakespeare and Richard Burbage, servaunts to the Lord Chamberleyne, upon the Councille's warrant dated at Whitehall XVth Marcij 1594, for two severall comedies or enterludes shewed by them before her majestie in Christmas tyme laste part viz St. Stephen's daye and Innocents daye…"
1596, 20th October – The application would have cost 30 guineas. Heraldic documents were processed and the description of the Coat of Arms grant to Shakespeare was as follows:
'Gold, on a bend (diagonal bar) sable (black), a spear of the first (i.e. gold), steeled argent (with a silver tip); and for his crest… a falcon his wings displayed argent (silver), standing on a wreath of his colours supporting a spear gold, steeled as aforesaid, (i.e. silver) set upon a helmet with mantles and tassles'.
The motto was "Non sanz droict" or "Not without right".
The interpretation of the description of the Coat of Arms granted to Shakespeare would have been the choice of the designer chosen by the Shakespeare family. The crest design would have not formed part of the Heraldic Documentation. As such an original crest is not in existence there are various interpretations of the Shakespeare Coat of Arms. None of these can be viewed as facts
The image on the right is an interpretation of the description of the Coat of Arms designed by william-shakespeare.info and not to be viewed as fact.
Facts and information about the Bard 1596 – 1599
1596 – Michaelmas – Court record. William Wayte "swore before the Judge of Queen's Bench that he stood in danger of death, or bodily hurt," from "William Shakspere" and three others. "The magistrate then commanded the sheriff of the appropriate county to produce the accused … who had to post bond to keep the peace, on pain of forfeiting the security"
1597, 5th April – Property documents. Shakspere bought New Place, paying a £60 fine which "may well seem absurdly low; but in fines of this period the consideration mentioned is customarily a legal fiction. It is not known how much Shakespeare actually paid." The house was the second largest in Stratford, "No fewer than ten fireplaces warmed New Place in winter, and there were probably more rooms than fireplaces, the latter being a taxable luxury"
1597 , 15th November – Tax record. Shakspere (William Shakespeare) is named in the King's Remembrancer Subsidy Roll as a tax defaulter in Bishopgate ward who failed to pay an assessed 5 shillings
1598 – List of Actors. In the initial presentation of Ben Jonson's Euery Man In His Hvmovr, "Will Shakespeare" was a "principall Comoedian"
1598, 1st December – Bill of sale. Chamberlain's Accounts Wyllyn Wyatt Chamberlin "Pd to Mr. Shakespere for one load of stone xd"
1598, 24th January – Letter – Abraham Sturley wrote to his brother-in-law that "our countriman mr Shaksper is willing to disburse some monei upon some od yardeland or other Shottrei or neare about us…"
1598, 4th February – List of Hoarders. Shakspere (William Shakespeare) is named as having illegally held 10 quarters (80 bushels) of malt or corn during a shortage
1598, 1st October – Tax record. In the King's Remembrancer Subsidy Roll, Shakspere is listed as a tax defaulter who failed to pay an assessed 13s..4d
1598, 25th October Letter. Richard Quiney wrote an undelivered letter asking Shakspere for a £30 loan.
1598 September – Tax record. In the Lord Treasurer's Remembrancer Accounts of Subsidies, Shakspere is listed among those in Bishopgate ward who have moved out of the district
1599 – Heraldic document, College of Arms. John Shakspere sought to add his wife's family arms to the Shakspere arms acquired 1596
1599, 21st February – Property document . A tripartite lease for the Globe Theater consisted of an agreement between Sir Nicholas Brend (grounds owner), the Burbage brothers, and five members of the Lord Chamberlain's company, which included Shakspere. It was described by John Heminges and Henry Condell in their testimony during the 1619 Court of Requests action Witter v. Heminges and Condell.
1599 – Inventory of Sir Thomas Brend. Shakspere and others (unnamed) are said to be occupying the Globe Theater
1599 6th October – Tax record. Shakspere is among those listed in the Lord Treasurer's Remembrancer Residuum London accounts as delinquents owing back-taxes "The marginal note Surrey, and the reference to 'Residuum Sussex', added later, signify that Shakespeare had migrated across the river to the Surrey Bankside"
Facts and information 1600 – 1605
1600 – Court record. "Willelmus Shackspere" brought suit against John Clayton for a £7 debt.
1600, 6th October – Tax record. Shakspere is listed in the Lord Treasurer's Remembrancer Residuum Sussex accounts "tax bill of 13s..4d. is still outstanding. The notation Episcopo Wintonensi in the left-hand margin indicates that the Court of Exchequer had referred the dramatist's arrears to the Bishop of Winchester, whose liberty of the Clink in Surrey lay outside the sheriff's jurisdiction. The Clink was a notorious debtors prison of the age.
1601, 25th March – Will of Thomas Whittington, Worcestershire Record Office. "Item I geve and bequeth unto the poore people of Stratford 40s that is in the hand of Anne Shaxspere, wyf unto Mr. Wyllyam Shaxspere, and is due debt unto me…" (William Shakespeare)
1602 Michaelmas – Property document, Public Records Office, Court of Common Pleas. New Place was reconveyed to Shakspere, who paid a fee equal to one fourth of the property's yearly value
1602, 1st May – Property document. For £320, Shakspere bought 107 acres of land and 20 acres of pasture in Old Stratford from William and John Combe
1602, 28th September – Property document. Shakspere (William Shakespeare) acquired a quarter-acre of land with "Chapel Lane Cottage" and a garden
1603 – List of Actors. In the initial presentation of Ben Jonson's Seianvs his Fall, "Will. Shake-speare" was a "principall Tragoedian"(William Shakespeare)
1603 17th/18th May – Royal documents – Warrants for the Great Seal. Two identically worded warrants were written for letters patent authorizing "William Shakespeare…and the rest of theire Assosiates freely to use and exercise the Arte and faculty of playinge Comedies Tragedies histories Enterludes moralls pastoralls Stageplaies and suche others like as theie have alreadie studied or hereafter shall use or studie aswell for the recreation of our lovinge Subjectes as for our Solace and pleasure when wee shall thincke good to see them duringe our pleasure…"
1603, 19th May – Royal document.Public Record Office. A Royal Patent "instructs all justices, mayors, other officers, and loving subjects 'to allowe them such former Curtesies as hath bene given to men of theire place and quallitie and alsoe what further favour you shall shewe to theeise our Servauntes for our sake', for such favour 'wee shall take kindlie at your handes'"
1604 – Court record. Shakspere (William Shakespeare) sued the apothecary Philip Rogers for 35s..10d plus 10 shillings damages, seeking to recover the unpaid balance on a sale of twenty bushels of malt and a small loan
1604, 15th March – Royal record. Public Record Office, Lord Chamberlain's Department. In the Master of the Wardrobe record, Shakspere (William Shakespeare) is listed among "Players" who were given scarlet cloth to be worn for the King's Royal Procession through London
1604, 24th October – Land survey.Public Record Office, Exchequer. A survey of Rowington manor reported that "William Shakespere Lykewise holdeth there one cottage and one garden by estimation a quarter of one acre and payeth rent yearly"
1605 4th May – Will of Augustine Phillips. Public Record Office "Item I geve and bequeathe to my ffellowe william Shakespeare a Thirty shillings peece in gould"
1605, 24th July – Property documents. Shakspere (William Shakespeare) purchased from Ralph Hubaud "a half-interest in a lease of 'Tythes of Corne grayne blade & heye' in three nearby hamlets … along with the small tithes of the whole of Stratford parish, with certain exceptions honouring former rights"
Facts and information 1606 – 1616
1606 – Inventory for Ralph Hubaud. After his death, an inventory of Hubaud's land and goods included the notation that "There was Owinge by Mr. Shakspre …" (William Shakespeare)
1608 – 17th August to 1609 7th June – Court records. Shakspere brought suit against John Addenbrooke for £6, plus 24s. damages. Shakspere (William Shakespeare) won and an order was issued for Addenbrooke's arrest.
1610 – Property documents, Public Record Office. A Court of Common Pleas fine served to confirm Shakspere's (William Shakespeare) title to 107 acres of land and 20 acres of pasture purchased in 1602 from William Combe
1611, 11th September – List of Contributors. William Shakspere's name appears on a list of those supporting "the Charge of prosecutynge [a] Bill in parliament for the better Repayre of the highe waies and amendinge divers defectes in the Statues alredy made"
1612, 11th May to 19th June – Court records. Public Record Office, Court of Requests Shakspere (William Shakespeare) was called into court and asked to resolve a dispute regarding the amount offered by him as dowery when he helped negotiate a marriage in 1604 (, Belott v. Mountjoy; etc.). "Only Shakespeare himself could resolve the question … but what the portion was, or when it was to be paid, Shakespeare could not say…. The witness likewise professed ignorance of 'what implementes and necessaries of houshold stuff' Mountjoy gave with Mary"
1613, 28th January – Will of John Combe. Public Record Office He bequeathed £5 to "mr William Shackspere" (William Shakespeare)
1613, 10th March – Property documents. Henry Walker's Blackfriars Gate-house was bought by Shakspere (William Shakespeare), William Johnson, John Jackson, and John Hemming for £140.
1613, 31st March – Record of payment. Accounts of the Steward of the Earl of Rutland For work on the Earl of Rutland's impresa, payments were made "To Mr. Shakspeare in gold, about my Lordes impreso, xlivs.; To Richard Burbage for painting and making it, xlivs." The "impreso" was a symbolic design on a shield which the Earl displayed during a tilt.
1615, 26th April – Court record. On a Court of Chancery bill of complaint, Shakspere is listed among those who sought to obtain Blackfriars property documents
1615, May – Court record. Thomasina Ostler's court plea has a list of shareholders for the Globe Theater and Blackfriars property which includes Shakspere's name
1616, 25th March – Last Will and Testament of William Shakspere (William Shakespeare) – Public Records Office,
Principal Probate Registry, Selected Wills
1616, 25th April – Burial record. The burial of "Will Shakspeare gent" is recorded in the Stratford parish register
Chronology of Plays – First performance and publications
Editions of William Shakespeare Plays
This selection of Collections of William Shakespeare conveys the number of different editions of the Plays of the Bard that have been published. Editions may vary in content and variations are generally detailed and explained in the modern forewords of the 1623 The First Folio (F1)
1632 The Second Folio (F2)
1663 The Third Folio (F3) Second issue of the F3 in the following year includes Pericles.
1685 The Fourth Folio (F4)
1709 Nicholas Rowe's edition
1723-25 Alexander Pope's edition.
1733 Lewis Theobald's edition.
1734-5 Robert Walker's small-format editions of the individual plays
1734-6 Jacob Tonson
1743-4 Thomas Hanmer's edition.
1747 William Warburton's edition.
1765 Samuel Johnson's edition.
1767-8 Edward Capell's edition.
1773 George Stevens's revision of Samuel Johnson's edition.
1773-4 John Bell's edition – Based on the prompt books then being used in the London theatres.
1778 Isaac Reed's revision of Stevens's Johnson edition.
1790 Edmond Malone's edition.
1791-1802 J. & J. Boydell's edition.
1795 First American edition published at Philadelphia.
1807 Francis Douce's edition
1821 A revised edition of Malone, prepared by James Boswell.
1822-23 Pickering edition.
1838-43 Charles Knight's edition.
1859-60 Mary Cowden Clarke's edition.
1863-6 Clark, Wright and Glover Cambridge University Press edition.
1870-1911 William J. Rolfe edition
1899-1931 W. J. Craig and R. H. Case's 'The Arden Shake-speare'.
1921-66 John Dover Wilson and Arthur Quiller-Couch's 'New Cambridge Shake-speare'.
1937-59 George B. Harrison's 'Penguin Shake-speare'.
1951 Peter Alexander's edition.
1956-67 Alfred Harbage's 'Pelican Shake-speare'.
1974 G. Blakemore Evans's 'Riverside Shakes-peare'.The edition most widely used among US colleges
1986 Stanley Wells and Gary Taylor's 'Oxford Shake-speare'.
1995- Richard Proudfoot, Ann Thompson and David Scott Kastan's revision of the Arden (now known as 'Arden 3').
Credits:
http://www.william-shakespeare.info/