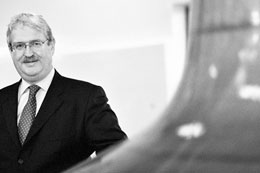 If it's not the tastes of nutmeg, cinnamon or peat smoke that attract buyers, it's the age, region or distillery. The market for collecting whiskies is growing fast, says Michael Urquhart (pictured), who runs one of Scotland's most famous whisky companies. (For the auction-ready, we've also included a list of places to bid.)
A very rare whisky
In March 2010, the oldest cask of single malt Scotch whisky ever bottled finally made it to the market. Distilled in 1938, the Mortlach was produced by the small but highly regarded whisky company, Gordon & MacPhail.
A bottle of whisky this rare doesn't come cheap. But the £10,000 price tag didn't prevent all the bottles being snapped up within a fortnight. Surprised? Not Michael Urquhart, joint Managing Director of the company. "We knew interest would be strong," he says. "There's been a dramatic growth of interest over the past decade in old and rare malt whiskies."
Michael comes from a long line of Urquharts who have piloted Gordon & MacPhail through changing times for the past 100 years. Michael's grandfather, John Urquhart, joined the firm within a year of its foundation in 1895. After taking over the business he was joined by his son, George, in 1933, who in turn brought his own children in.
Michael qualified as a chartered accountant, but – along with his brothers – received rigorous training from his father in the selection of malt whisky.
New collectors are driving prices higher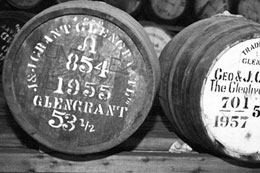 Gordon & MacPhail has a key place in the history of whisky, not least because it was among the first firms to bottle single malt whiskies – until the late 1970s, 99.9% of the malt whisky made went into blended Scotch. From his vantage point Michael has a good perspective on the growing appetite for collecting whisky.
"There are hundreds of collectors from all over the world," he says. "You just have to look at the numbers of lots at auction sales by Bonhams in Edinburgh or McTear's in Glasgow – and at the prices they achieve – to realise that the number of collectors is increasing.
"Some collect to consume, others to display – I think of these as "museum collectors". Some collect purely as an investment and this category has increased substantially during the recession. As with fine art or wine, people are including less conventional investments in their portfolios. Many now take a somewhat jaundiced view of the stock market; they look for investments that can be enjoyed, as well as giving a reasonable return.
"Across the board, Scotch whisky – particularly malt whisky – has shown steady appreciation, and in some cases dramatic appreciation in value."
Bottles alone are worth £30 to £30,000
One of the attractions of collecting whisky, according to Michael, is that you don't have to spend a fortune – a bottle worth collecting can be anything between £30 and £30,000. "Collectors will pay a lot for desirable bottles," he says. "The current top price at auction is £34,000 [$54,000 in 2008], I think, for a 1926 Macallan."
The different approaches to collecting are intriguing. "Some collectors like fancy bottles and decanters; original packaging always adds value; bottles from extinct distilleries are popular – and some are still very reasonably priced.
"Some collect by distillery, by region or by age. Certain makes are especially popular – The Macallan, Port Ellen, Ardbeg, Springbank and Bowmore, to name a handful."
Above all, says Michael, collectors look for quality and rarity. "When a new, well-aged, limited-edition malt is released, comments on its quality whip round like wildfire in a matter of hours and immediately influence its desirability. If such a release is limited to only a couple of hundred bottles, they will fly off the shelf."
Feature: © Charles MacLean. Images: © James Pfaff. 
WHISKYWATCH
Where to find the leading whisky auctions:
This article appeared in the Winter 2010 issue of Bespoke magazine