Nathaniel Mills (1784-1843) – The King of Castle Tops
By Cliff Proctor
If you are fortunate enough to own a slim silver card case which is deeply embossed with an image of a castle or some other important building or monument, and if the initials 'N.M' are incorporated within the hallmark then you are the proud owner of a valuable item made by the Birmingham silversmith, Nathaniel Mills. You have a treasure much sought after by collectors, for Mr Mills is said by some to be head and shoulders above others as the best box maker of his time. Should you decide to sell it today the proceeds of sale at retail value would take you and a partner on a fortnight's cruise around the Mediterranean or buy you a hundred bottles of Moet and Chandon champagne.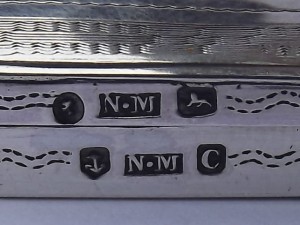 Your little silver box weighing about 2½ozs, and measuring only 4 by 3 inches at the most, is by no means a rare piece as is evident in the quantity available from dealers and on the internet. Neither does it really have a practical use these days since leaving one's calling card to indicate that one is in town and, therefore, able to both receive callers and visit friends is no longer a custom. The whole complicated ritual and etiquette once regarded as an essential part of maintaining one's social standing has been abandoned.
So why does a Nathaniel Mills card case command such a high price and generate so much interest? The answer could be in the quality of the article. The fact that so many have survived in such good condition after more than 150 years is surely a testament to the quality of their construction. Mr Mills set a high standard.
He used a gauge of silver which, despite the high relief of the image, did not easily wear into holes, the hinge was robust enough to withstand frequent movement, the corners and seams were well soldered and smoothed into the profile. Where he soldered a die cast or a cast image onto a box, he often cleverly incorporated cast scrolling as a 'frame' to further cover the joint.
Most important was the actual design, which interpreted the demands of the fashions of the day. The Victorians had developed a taste for the souvenir, and Mills' products were available to fill the demand. This souvenir fad, it is suggested, had been brought about by the expansion of the railways which led to the opening up of new tourist areas, not only providing the adventure of travel in what was then a modern way, but also enabling those Victorians who could afford it to visit the sights they had only read about. Most were also loyal monarchists and anything to do with Queen Victoria and Prince Albert was revered. Hence the images of Balmoral Castle, Buckingham Palace, Osborne House, and the Crystal Palace which was built to house the Great Exhibition and was so closely associated with Prince Albert.
Nathaniel Mills the Elder first entered a maker's mark at the Birmingham Assay Office in 1803 when he was associated with a Mr Langston as Mills and Langston. They were listed as Jewellers at 2 Northwood Street, Birmingham, but he had never actually been articled as an apprentice silversmith. He was probably the entrepreneur with the finance available to set up a jewellery manufacturing business whilst his partner, Mr Langston, could have been the skilled jewellery maker with Nathaniel Mills himself perhaps marketing their products.
In 1825, however, he then registered his own mark, 'N.M', at the Assay Office in Birmingham, but Langston was not included, and Mills was then seemingly producing items of silver as opposed to concentrating on jewellery. From 1825 until 1855 there were a total of seven separate registrations at Birmingham Assay Office with the punch marks showing very little variation in style other than clipped corners and the inclusion of a pellet between the 'N' and the 'M', but always within a rectangle. There are five different addresses shown in various census record s for their workshops; in Caroline Street at number 49, and later at number 42 which he bought from George Unite in 1836, in Northwood Street and in Howard Street at number 9 and later 11½, all of them being within the Jewellery Quarter and within a short distance of each other.