Josiah Wedgwood
1730-1795
English potter, whose works are among the finest examples of ceramic art.
Wedgwood was born in Burslem, Staffordshire, on July 12, 1730, into a family with a long tradition as potters. At the age of nine, after the death of his father, he worked in his family's pottery.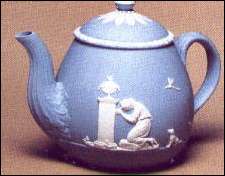 In 1759 he set up his own pottery works in Burslem. There he produced a highly durable cream-coloured earthenware that so pleased Queen Charlotte that in 1762 she appointed him royal supplier of dinnerware. From the public sale of Queen's Ware, as it came to be known, Wedgwood was able, in 1768, to build near Stoke-on-Trent a village, which he named Etruria, and a second factory equipped with tools and ovens of his own design. At first only ornamental pottery was made in Etruria, but by 1773 Wedgwood had concentrated all his production facilities there.
During his long career Wedgwood developed revolutionary ceramic materials, notably basalt and jasperware.
In 1754 Wedgwood began to experiment with coloured creamware. He established his own factory, but often worked with others who did transfer printing (introduced by the Worcester Porcelain Company in the 1750s). He also produced red stoneware; basaltes ware, an unglazed black stoneware; and jasperware, made of white stoneware clay that had been coloured by the addition of metal oxides. Jasperware was usually ornamented with white relief portraits or Greek Classical scenes. Wedgwood's greatest contribution to European ceramics, however, was his fine pearlware, an extremely pale creamware with a bluish tint to its glaze.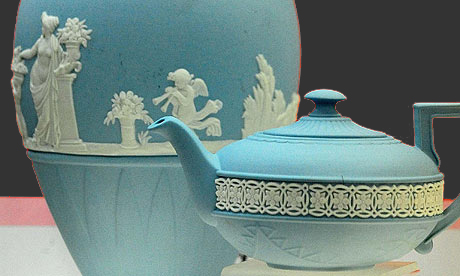 Wedgwood's basalt, a hard, black, stone-like material known also as Egyptian ware or basaltes ware, was used for vases, candlesticks, and realistic busts of historical figures. Jasperware, his most successful innovation, was a durable unglazed ware most characteristically blue with fine white cameo figures inspired by the ancient Roman Portland Vase. Many of the finest designs were the work of the British artist John Flaxman.
Marriage and children
Wedgwood married Sarah Wedgwood (1734–1815), his third cousin, in January 1764. They had seven children:
Susannah Wedgwood, (mother of the English naturalist Charles Darwin)
John Wedgwood (1766–1844)
Josiah Wedgwood II (1769–1843) (father of Emma Darwin, cousin and wife of the English naturalist Charles Darwin)
Thomas Wedgwood (1771–1805) (no children)
Catherine Wedgwood (1774–1823) (no children)
Sarah Wedgwood (1776–1856) (no children, very active in the slavery abolition movement)
Mary Anne Wedgwood (1778–86) (died as a child)
Artists
The most famous artist Wedgwood employed at Etruria was the sculptor John Flaxman, whose wax portraits and other relief figures he translated into jasperware.
Competitors
Wedgwood's wares appealed particularly to the rising European bourgeois class, and porcelain and decorated and glazed earthenware factories suffered severely from competition from him.
The surviving factories switched to the manufacture of creamware (called on the Continent faience fine or faience anglaise) to try to imitate and compete with Wedgwood. Even the great factories at Sèvres, France, and at Meissen, Germany, found their trade affected.
Jasperwares were imitated in biscuit porcelain at Sèvres, and Meissen produced a glazed version which they even called Wedgwoodarbeit.
The Royal Society
Wedgwood's invention of the pyrometer, a device for measuring high temperatures (invaluable for gauging oven heats for firings), earned him commendation as a fellow of the Royal Society.
Timeline:
The youngest child of the potter Thomas Wedgwood, Josiah came from a family whose members had been potters since the 1600's.
1730 Baptised July 12, 1730, Burslem, Stoke-on-Trent, England.
1739 After his father's death in 1739, he worked in the family business at Churchyard Works, Burslem, becoming exceptionally skilful at the potter's wheel.
1744 Became an apprentice to his elder brother Thomas. However an attack of smallpox seriously reduced his work (the disease later affected his right leg, which was then amputated); the result of this inactivity, enabled him to read, research, and experiment in his craft as a Master Potter.
1752-3 In 1749 Thomas (Josiah's elder brother) refused his proposal for partnership and Josiah formed a brief partnership with John Harrison at Stoke-on-Trent, Staffordshire.
1754 Wedgwood formed a partnership with Thomas Whieldon of Fenton Low, Stoke-on-Trent, probably the leading potter of his day. This became a fruitful partnership, enabling Wedgwood to become a master of current pottery techniques. He then began what he called his "experiment book," an invaluable source on Staffordshire pottery.
1759 After inventing the improved green glaze which is still popular even today, Wedgwood finished his partnership with Whieldon and went into business for himself at the Ivy House factory in Burslem.
1762 On one of his frequent visits to Liverpool to arrange export of his ware, Wedgwood met the merchant Thomas Bentley. Because the sale of his ware had spread from the British Isles to the Continent, Wedgwood expanded his business to the nearby Brick House (or Bell Works) factory.
1765 Queen Charlotte's patronage of Wedgwood's cream-coloured earthenware in 1765, led the well finished earthenware which Wedgwood produced to be called Queen's ware. Queen's ware became, by virtue of its durable material and serviceable forms, the standard domestic pottery and enjoyed a worldwide market.
1768 The merchant Bentley became his partner in the manufacture of decorative items that were primarily unglazed stonewares in various colours, produced and decorated in the popular style of Neoclassicism.
Chief among these wares were: – black basaltes, which by the addition of special painting (using pigments mixed with hot wax, which are burned in as an inlay), could be used to imitate Greek red-figure vases; and – jasper, a fine-grained vitreous body resulting from the high firing of paste containing barium sulphate.
1771 Wedgwood built a factory called Etruria, for the production of his ornamental vases. Later the manufacture of useful wares was also transferred. (At this site his descendants carried on the business until 1940, when the factory was relocated at Barlaston, near Stoke-on-Trent, Staffordshire – the Etruria site was used as part of the "National Garden Festival" and Wedgwood's great house can still be seen as it has been incorporated into an hotel.
1774 Evidence of the popularity of Wedgwood's creamware is found in the massive service of 952 pieces made for Empress Catherine the Great of Russia
1775 Jasper's introduction in 1775 was followed by other wares such as: – rosso antico (red porcelain), cane, drab, chocolate, and olive wares.
1782 In 1782 Etruria was the first factory to install a steam-powered engine.
After Wedgwood's death in Etruria on January 3, 1795, his descendants carried on the business, which still produces many of his designs.
External links