William Morris (1834–1896) was the single most influential designer of the nineteenth century. Morris was a political theorist, scholar, translator and publisher, an environmental campaigner, writer and poet as well as an outstanding designer. Under his direction Morris & Co. grew into a flourishing and fashionable decorating firm renowned for its wallpapers and textiles.
William Morris
Artist, Philosopher, Poet and Designer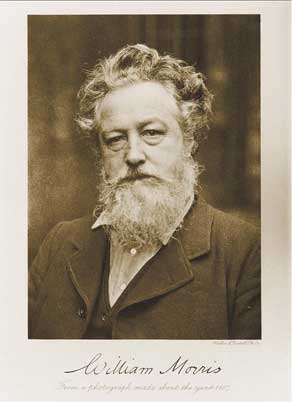 William Morris was the single most influential designer of the nineteenth century, and remains today one of the best known of all British designers. This is due to his extraordinary talent as a pattern designer, his colourful and inspiring life story and to his forceful intellect and personality. Morris was much more than a designer; he was a fervent socialist, scholar, translator and publisher, an environmental campaigner, writer and poet.
William Morris was born in Walthamstow in 1834 to an affluent middle class family, the son of a wealthy city stockbroker.
At the age of fourteen he was sent to Marlborough College and was much impressed by the High Church Oxford movement. With this in mind, he entered Exeter College, Oxford in 1853, studying theology as he intended to enter the Church. During this time he met Edward Burne-Jones who was taking Holy Orders, but would later become one of the great Pre-Raphaelite artists and remained Morris's closest friend for life.
Whilst at Oxford, he developed an interest in art and literature and a deep love for everything mediaeval, not only art and design, but also architecture. At the age of twenty one, he inherited an annual income equivalent to approximately £72,000 today and in 1855 he embarked on a walking tour of Northern France with Edward Burne-Jones to see the great gothic cathedrals.
On returning to England both Morris and Burne-Jones joined the gothic revival architectural practice, George Edmund Street. Here they met Philip Webb who was to become a lifelong friend and, together with Webb, they formed the Arts & Crafts movement. Morris's career turned to fine art, but was soon to be overtaken by his newfound career as a designer of interiors.
In 1857, through Burne-Jones, Morris met Dante Gabriel Rossetti, the father figure of the Pre-Raphaelite movement who mocked Morris's attempts at fine art. At this time, Morris was introduced to Jane Burden, one of Rossetti's models. After an uneasy relationship, Morris married Jane in 1859 (He was twenty five and she was eighteen) and they moved into a new home – Red House in Bexleyheath. The house was designed for them by the architect Philip Webb and it was here that Morris and his friends carried out the complete decoration of the property in the mediaeval style, creating all the furnishings which included stained glass windows, murals and tapestries. On the completion of Red House in 1861, Morris and his friends decided to found Morris, Marshall, Faulkner & Company, turning their domestic hobby into a commercial venture.
Inspired by his love of mediaeval art and design, Morris set out to revive the traditions of craftsmanship which, in his mind, had been lost during the Industrial Revolution. He encouraged hand craftsmanship, which in turn would enable workers to achieve satisfaction and pleasure in their work.
Furthermore, Morris demanded that good quality furnishings should be available to all and not just the wealthy. Regrettably however, his two aims were to some extent at odds with each other, as hand crafted goods were often much more expensive than machine made products.
By the mid 1860's, Morris concentrated all his decorative prowess on his wallpaper designs, most famously Trellis, Daisy and Fruit. Trellis was Morris's first wallpaper, issued in 1864 and used in Red House prior to Morris vacating the property in 1865 (interestingly Morris was unable to draw birds and therefore his architectural friend, Philip Webb completed the design with the necessary birds!)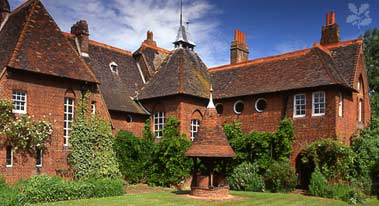 In 1875, 'the Firm' was disbanded and Morris set up a new company trading as Morris & Company, thereby taking full control. This period proved to be Morris's most prolific and creative as a pattern designer and he devoted much time to developing and perfecting ranges of textiles which were reproductions of early 19th Century prints. Initially Morris's prints and woven designs were produced by outside contractors whilst he continued to experiment with traditional dyeing techniques.
In 1881, Morris, determined to take full control of all production, acquired a disused factory at Merton Abbey near Wimbledon which gave him the necessary space for his jacquard and tapestry looms. It was here that he perfected his indigo discharge print technique, together with madder reds which would become the hallmark of the Morris style.
Politics increasingly pre-occupied Morris from the mid 1870's when he formed the Socialist League, writing articles for its journal, 'The Commonweal'. A prolific lecturer and writer, Morris produced extensive literary works, not only on design, but also on the Socialist cause. Every detail counted and as a published author, Morris was far from happy with the design of books at the time and therefore decided to design his own typeface, leading to him setting up Kelmscott press in 1891. His most elaborate book was Kelmscott Chaucer, with engravings by Edward Burne-Jones.
The scope of Morris's activities were extraordinary; in his own lifetime, Morris received critical acclaim as a poet and writer and this, coupled with his remarkable artistic talents, put him head and shoulders above his contemporaries.
Exhausted by his emotional experiences, Morris died on 3rd October 1896 aged 62 and was buried in St. George's Churchyard at Kelmscott on 6th October 1896. It has been suggested that a doctor said of William Morris's death 'the disease is simply having done more work than most ten men'.