Salvador Dali was born as the son of a prestigious notary in the small town of Figueras in Northern Spain. His talent as an artist showed at an early age and Salvador Felipe Jacinto Dali received his first drawing lessons when he was ten years old. His art teachers were a then well known Spanish impressionist painter, Ramon Pichot and later an art professor at the Municipal Drawing School. In 1923 his father bought his son his first printing press.
Dali began to study art at the Royal Academy of Art in Madrid. He was expelled twice and never took the final examinations. His opinion was that he was more qualified than those who should have examined him.
In 1928 Dali went to Paris where he met the Spanish painters Pablo Picasso and Joan Miro. He established himself as the principal figure of a group of surrealist artists grouped around Andre Breton, who was something like the theoretical schoolmaster of surrealism. Years later Breton turned away from Dali accusing him of supporting fascism, excessive self-presentation and financial greediness.
By 1929 Dali had found his personal style that should make him famous – the world of the unconscious that is recalled during our dreams. The surrealist theory is based on the theories of the psychologist Dr. Sigmund Freud. Recurring images of burning giraffes and melting watches became the artist's surrealist trademarks. His great craftsmanship allowed him to execute his paintings in a nearly photo-realistic style. No wonder that the artist was a great admirer of the Italian Renaissance painter Raphael.
Salvador Dali is considered as the greatest artist of the surrealist art movement and one of the greatest masters of art of the twentieth century. During his lifetime the public got a picture of an bizarre paranoid. His personality caused a lot of controversy.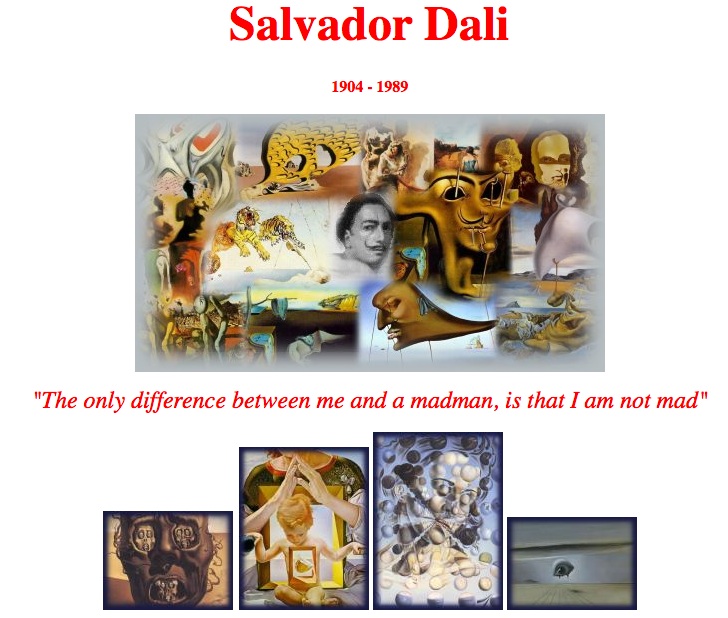 Dali's early works as a teenager were predominantly of the landscapes which surrounded Cadaques and Fugueras. In 1917, Dali's father organised a small exhibition in their home, this was to be the first of many. In 1921, Dali's mother died. At this time, Dali mainly thought of himself as mainly an impressionist painter. Soon after, in 1922, Dali was accepted at the Acadamia de San Fernando, a school of painting, sculpture and engraving in Madrid. It was here that Dali became part of an emerging group of intellectuals and this had a profound effect on Dali.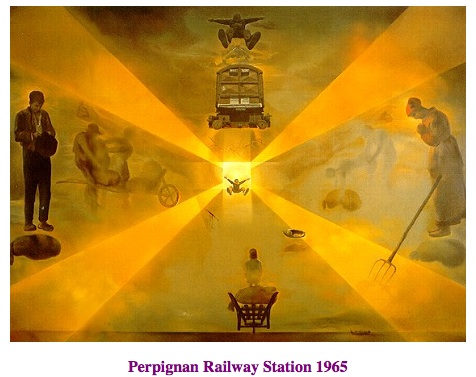 Dali became the darling of the American High Society. Celebrities like Jack Warner or Helena Rubinstein gave him commissions for portraits. His art works became a popular trademark and besides painting he pursued other activities – jewelry and clothing designs for Coco Chanel or film making with Alfred Hitchcock.
In 1980 Dali was forced to retire due to palsy, a motor disorder, that caused a permanent trembling and weakness of his hands. He was not able to hold a brush any more. The fact that he could not follow his vocation and passion of painting and the news of Gala's death in 1982 left him with deep depressions.
After Gala's death he moved to Pubol, a castle, he had bought and decorated for Gala. In 1984, when he was lying in bed, a fire broke out and he suffered severe burns. Two years later, a pacemaker had to be implanted.
Towards the end of his life, Dali lived in the tower of his own museum where he died on January 23, 1989 from heart failure.
Salvador Dali Museums
Salvador Dali is the only known artist who had two museums dedicated exclusively to his works at lifetime.
Dali Museum in St. Petersburg, Florida
The Dali Museum in St. Petersburg in Florida/U.S.A. was founded in 1971 by the Dali collector A. Reynolds Morse and his wife Eleanor. The collection was first exhibited in a building adjacent to their home in Cleveland/Ohio. In 1982, the museum was moved to St. Petersburg in Florida. It hosts 95 oil paintings including six of Dali's eighteen large-sized historical paintings.
Dali Museum-Theatre in Figueres, Spain
The Dali Museum-Theater in Figueres, Spain was the former Municipal Theater of Figueres. In 1918, when Salvador Dali was only fourteen years old, it had shown his first public exhibition.
Since 1970 the artist had dedicated his energy to transform the former Municipal Theater into a museum and art gallery. In 1974 the Theatro Museo Dali was officially opened.