Apart from the big names in the haute horological world, Rolex has traditionally been known as the gentlemen's choice, owing to their sophisticated designing. Founded in 1905 in the UK by the duo of Hans Wilsdorf and Alfred Davis, this master watch maker is now headquartered in Geneva, Switzerland from where it continues to shell out luxurious watches every year. No wonder Business Week Magazine rated them 71st on the list of Top 100 most valuable global brands in 2007. This list covers a few of those, which have managed to sell at premium prices the world round:
1). (pictured above) 1942 Rolex Chronograph
Price: $1.16 million
1942 rolex split seconds chronograph reference 411
At its May 16 sale of Important Watches in Geneva, Christie's offered a wide selection of the world's finest watches from renowned brands like Patek Philippe, Rolex and Vacheron Constantin. While the star lot, the Patek Philippe white gold single button chronograph wristwatch manufactured in 1928, fetched $3,6 million, and a rare Rolex chronograph made in 1942 set a new record by selling for $1.16 million. The oversized stainless steel split seconds chronograph (reference 4113) has a nickel-finished lever movement, 17 jewels, silver matte dials, applied pink gold Arabic and baton numerals. Other salient features include outer minute divisions, blue telemeter and black tachymeter scales, two subsidiary dials for constant seconds, 30 minutes register and a split seconds chronograph mechanism. The particular Rolex watch is one of only 12 models created, of which only eight are known to be in existence. Reports say that all the Ref 4113's were made as gifts to famous race drivers and team owners during the early 1940s. The 1942 Rolex was earlier estimated to sell for between $681,818 and $1.13 million. The realized price for the chronograph, including the buyer's premium, sits at $1.17 million, which makes it the most expensive Rolex sold at an auction.
2). Eric Clapton's 1971 Albino Rolex Daytona
Price: $505,000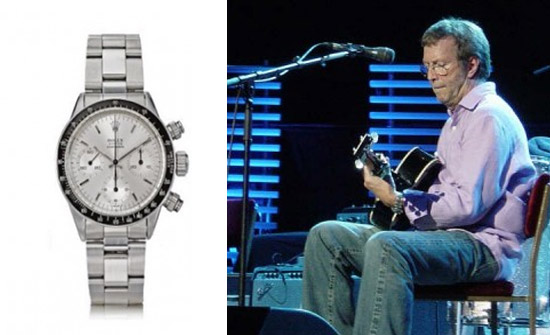 Eric Clapton's 1971 Albino Rolex Daytona
When it comes from the wrist of someone like Eric Clapton, virtually any watch would sell way above the estimated price, and that's what precisely happened with this 1971 Rolex Daytona. Featuring the unique silver monochrome dial, the watch came to be known for being against the designing norms of Rolex who traditionally made timepieces with a different scheme of contrast. The name Albino came for precisely that reason. Also, the estimated price for this particular 1971 watch was around 1/5th of what it eventually sold for, simply because of its original owner.
3). Gold Rolex owned by India's first president Dr Rajendra Prasad
Price expected: $222,000 to $444,000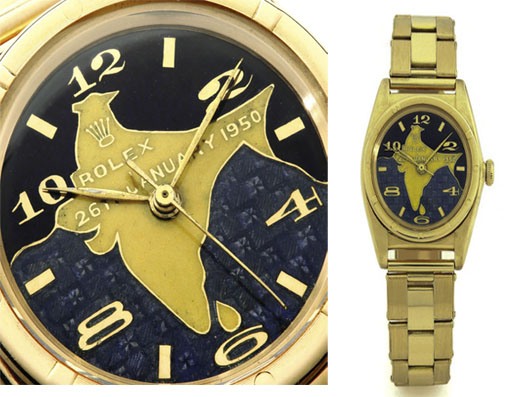 Gold Rolex owned by India's first president Dr Rajendra Prasad
Famous personalities are not just known for their deeds but also for the style they carry. Not necessarily extravagant, but some people made statement in their own subtle and elegant way. One such personality was India's first president Dr. Rajendra Prasad, who was a prominent name at the time of India's freedom struggle. Things used by him have now become his memorabilia. One such memorabilia is his Gold Rolex watch which was said to be gifted to him at the time of India's first Republic Day in 1950. The watch went for sale at the auction of rare timepieces by leading auction house, Sotheby's. This Rolex pink gold Oyster watch has 18 Karat gold dial with the map of India. The map has a date – 26th January, 1950 – inscribed on it. The rare timepiece is expected to fetch $222,000 to $444,000 at the auction held at Sotheby's Geneva.
4). 'Ferrari Red Paul Newman' Rolex Oyster Cosmograph 'Daytona' Ref.6565
Price: $267,203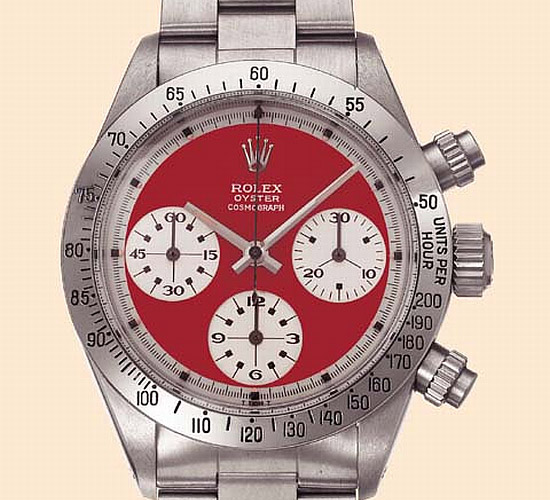 'Ferrari Red Paul Newman' Rolex Oyster Cosmograph 'Daytona' Ref.6565
Ferrari and the red tone have literally synonymous with each other, and it was no surprise that Rolex created a timepiece based on it. Like the Italian car famous for technical prowess, this watch also boasts of functions like the tachometer movements at 200 bets an hour, 30-minute counter, seconds counter, and also a 12-hour counter, which works based on the mechanical Caliber 727 movement boasting of 17 jewel components. The stainless steel bracelet and casing has been a Tritium coating, just like the hands within the sapphire covered 37mm wide dial, whose red and enameling has been done especially to bring in the sporty feel of the watch.
5). Steve Mc'Queen's 1967 Rolex Submariner ref.5513
Price: $234,000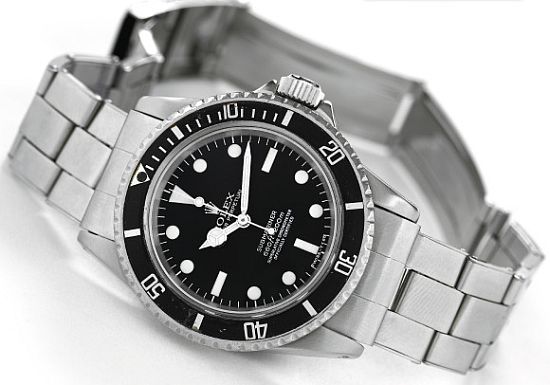 Steve Mc'Queen's 1967 Rolex Submariner ref.5513
One person who personified the suave sportsman on the silver screen, and more so motor racing, was Steve Mc'Queen who starred in the classic movie 'Le Mans' based on the famous car racing event. A very signature style of the Swiss based watch brand, the watch was a stainless steel timepiece, based with an automatic movement at its center, and was a COSC certified chronometer. Like the name submariner, this watch has the capability to work perfectly under 200 meters of water. The purchase however, includes an interesting story in which Bud Ekin and Steve McQueen were purchasing a motor bike. Bud Ekins negotiated on his friends behalf to ensure that along with the bike, Steve gets the submariner Rolex watch as well, which ultimately is known to have sealed the deal.
6). 1973 James Bond Rolex 5513
Price expected: $230,000-450,000.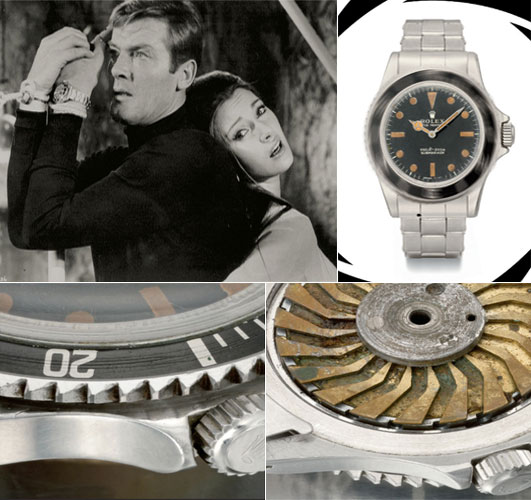 1973 James Bond Rolex 5513
Anything to do with James Bond, expect something out of the ordinary. After the1976 Lotus Spirit amphibian vehicle (driven by Roger Moore as James Bond) went up for sale, it's the turn of the 1973 Rolex 5513 timepiece to go under the hammer. The Rolex will also have the original magnetic field generator and buzz saw bezel, which was used during the James Bond movie Live or Let Die, by Roger Moore. Since involved in a James Bond movie, the watch was recreated and manipulated in its features to do extra ordinary things that the franchisee is known for. The movement of the timepiece was removed, to install a razor disc with small pinhole and a magnetic field generator. Though the movie showed James Bond using the watch to unzip Madeline Smith's dress, but in actual, this particular pinhole had a thin wire which actually did the work! The disc edges were also used in a crucial sequence to save Bond and his accomplice. And finally, the mysterious magnetic field generator was helped protecting Bond from a bullet by changing its path, apparently! The Rolex 5513 by itself was rather sophisticated in its looks. With a contrastic white on black dial, and stainless steel chassis and strapping, it looked like the perfect accessory for the British spy. But unlike other Rolex's, it had the special add-ons to set itself apart. The current auction of the timepiece will be conducted by Christie's for their event in November 2011. Estimation of the price for this unique Bond watch is currently stated in the range of $230,000-450,000.
7). Cosmograph Daytona Paul Newman Ref.6241
Price: $106,273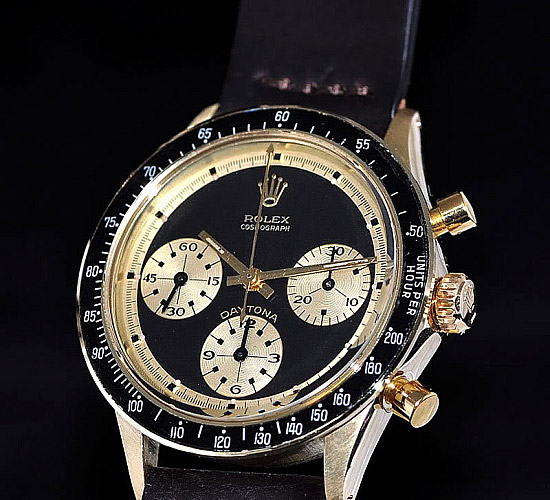 Cosmograph Daytona Paul Newman Ref.6241
Created in 1969, this Rolex remains one of the signatures from the watchmaker, with its 14K champagne gold casing and dial. The tachometer on the outside and the 3-subdials on the interior have been given a contrasted black enameling, especially created for this limited edition run of 200 units. Apart from the regular hours and minutes, the watch has sub-dial functions for seconds, 30 minutes, and 12-hour counters all housed within the Tonneau round shaped 38mm wide case. The other things it can boast of include the 17 jewels in its caliber 722-1 nickel finished lever movement, apart from the luminous hands and other ascents within the main dial.
8). Submariner watch from Rolex for Cartier
Price: $100,000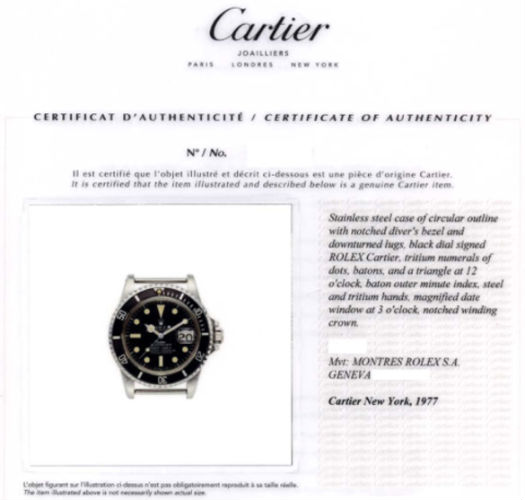 Submariner watch from Rolex for Cartier
We have earlier told you about the luxurious diving watches, including the Swiss Military 20,000 Feet Diver watch. And if that is what you would call taking it a little further, then check out this $100,000 Submariner watch from Rolex for Cartier. Though it sure is a collector's piece for the watch lovers, splurging out $100k for this does not make any sense unless you want your wristwatch to save you and still survive the pirhana attack. These extremely limited edition Rolex watches were reportedly available at Cartier on Fifth Avenue in New York City for a very limited period of time. The other one that exists, the Rolex Double Red Sea Dweller signed by Cartier, was sold for an equally ludicrous $91K price tag at an auction. And, Fourtane in Carmel, CA, is selling this rare piece along with original Cartier archive papers with date of sale and picture in addition to red Cartier original box.
9). Custom leopard print diamond Rolex
Price: $46,000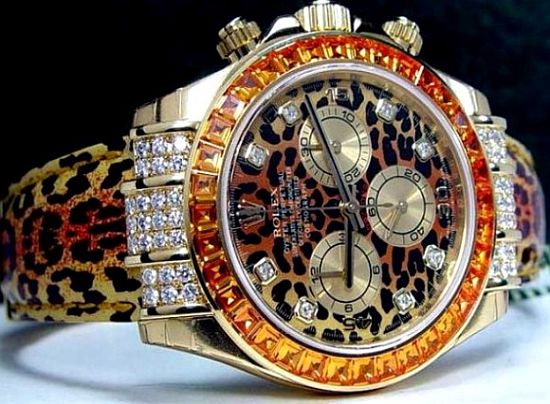 Custom leopard print diamond Rolex
This "pretty" Rolex with a custom leopard print diamond and sapphire Cosmograph Daytona is up for grabs at JamesList, global online luxury marketplace. The special edition watch has an 18k yellow gold case with 36 baguette cognac sapphires, 48 diamonds on the end pieces and a leopard print dial festooned with another eight diamonds. Priced at $46,000, this timepiece is designed as the ultimate timing tool for endurance races.