Old or new, the exclusivity in production features and design has rendered cars to be precious for its collectors for numerous reasons. Especially with time, the value of some of the cars tends to increase if they fall into the bracket of the big names like Ferrari, Bentley, Mercedes, Audi etc. We had earlier shown you the world's most expensive cars for new models, and now this list showcases the most expensive ones sold at various auctions around the world.
Most expensive cars sold at auctions
1) 1957 Ferrari 250 Testa Rossa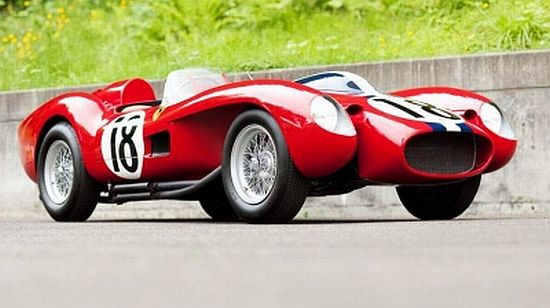 1957 250 Testa Rossa
Winning bid: $16.39 million
Touted as one of the most cherished racing cars from Ferrari, the 1957 Testa Rossa had a somewhat shaky yet glorious start. The car suffered some major accidents between 1958 and 1961, but it also had won at prestigious events like the World Championship in 1958, completing a hat-trick for Ferrari. It had a successful run in 10 out of the 16 races it participated in before 1961, before not being so prominent in the racing circles. It featured many high-end technical components of that time, including the 300 BHP Type 128 LM V-12 engine with 4 speed manual transmission, hydraulic drum-brakes and shock absorbers, anti-roll trailing arms rear suspension to name a few.
2) 1931 Whittell Duesenberg Coupe
Whittell Duesenberg coupe
Winning bid: $10.34 million
One of the 6 cars that millionaire Captain George Whittell Jr collected during his lifetime, this rare 1931 car was known for its classic lengthy body and its trendy design. One of the few to have a red underlying, this coupe stood out for the flashy yet regal look as a result of the generous use of aluminum in many parts including the dashboard, steering wheel, chassis frame, and door linings to name a few. The only other pre-dominating on the vintage sports car was black, which was used on the body exterior, as well as the interiors like the polished leather seats.
3) 1937 Mercedes Benz 540K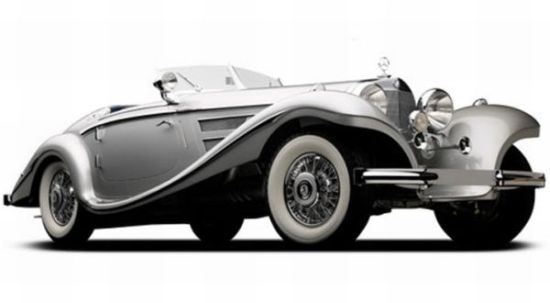 Rare 1937 Mercedes-Benz 540K
Winning bid: $9.68 million
This 1937 Mercedes has been in the limelight mainly because of its F1 team owning collector, Bernie Ecclestone who had paid $8.25 million in 2007 to acquire this rare piece of automotive history. The car's engine is an 8-cylinder 180HP machine, which could take the car from 0-100 km/ph in 16.4 seconds, and the top speed of 169 km/ph. It also had a 4-speed manual transmission and 4-wheel independent suspension. Though, 406 editions were made, only a few survive today amongst which this is one.
4) 1952 Ferrari 340 Mexico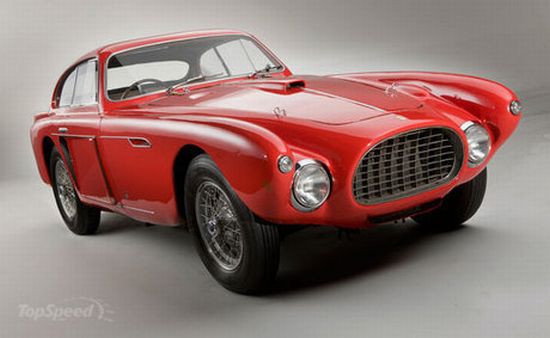 1952 Ferrari 340 Mexico
Winning bid: $4.3 million
This version of the Ferrari 340 Mexico is only 1 of the 3 cars that were ever made, and was a part of the collection of F1 enthusiast Larry Nicklin, who also had a few more classic versions from Ferrari in his collection. The engine on this vehicle was a 4.1 liter V-12, which had a 5-speed manual transmission. The car also had an independent front suspension with a rear live axle, which were notable features of that time in any category of cars.
5) Bugatti Veyron Grand Sport L'or' blanc Porcelain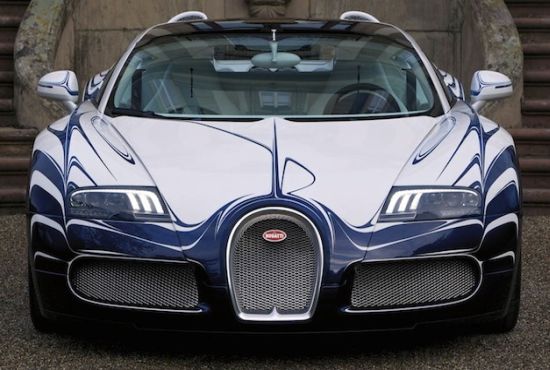 Bugatti Veyron Grand Sport with porcelain body
Winning Bid: $2.39 million
The Bugatti Veyron gained popularity around the world for its ultra powerful 7,933 engine that took the car from 0-100 km/ph in just 2.3 seconds, with a top speed of 431 km/ph. This particular edition of the Bugatti was sold for $2.39 million, and had a dual-toned porcelain body, and even some components on the inside were created out of this porcelain. The construction procedure was supposed to be one of the toughest as the whole body's unit had to be created as a single monoque unit, and then replaced in place of the original chassis.
6) 1966 Lamborghini Marsal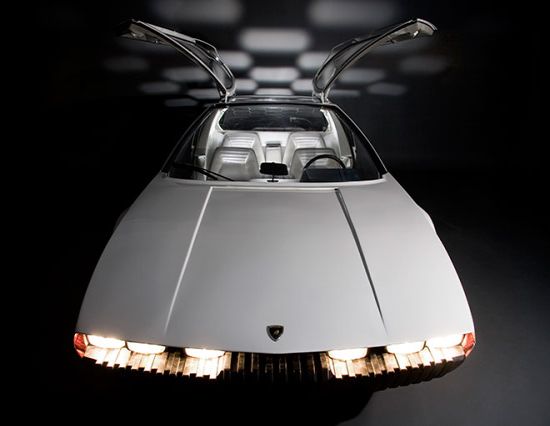 Rare Lamborghini Marsal
Winning bid: $2.1 million
The Marsal Lamborghini was a 'car never to be', because it didn't go into production, other than just its prototype. The model was introduced as a futuristic option with its tapered and slim design, along with its partly transparent doors and silver toned interiors. Also, the interiors included the unique honeycomb shaped central console, which wasn't replicated too many times. The engine was a 2.0 liter 175 HP version, but looking at the dynamics, one wondered what the top speed could have been.
7) 1970 Porsche 911 owned by Steve Mc'Queen
Steve McQueen's Porsche
Winning bid: $1.25 million
Apart from being a popular Hollywood figure, Steve Mc'Queen was known to collect historic cars as a part of his exclusive collection. One of them was this 1970 Porsche, which was showcased in his movie dedicated to the Le Mans race. Amongst its most distinguishable features were the 200 DIN HP, 2195cc engine with 5-speed manual transmission, and independent front and rear wheel suspensions. Though the car was very well preserved over the years, it had actually changed hands frequently and had already was in collection of 4 past owners before being auctioned.
8) 1933 Bugatti Type 51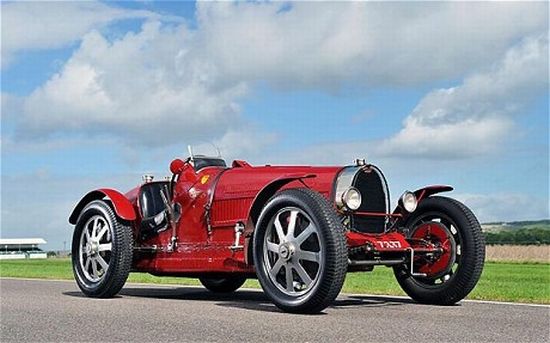 Bugatti 1933 Bugatti Type 51
Winning bid: $1.24 million
This particular car was in the procession of famous car collector Lord Raglan, and later car enthusiast Fitzroy John Somerset who had worked on the car himself, when he wanted to restore the original conditions in 1979. Only 40 editions of the series were ever made, and it showed its glory in races such as the French Grand Prix and still remains an enigmatic vehicle for its sheer designing factors. It had a 2.3 liter 2,262cc engine with 160 HP of displacement capacity.
9) 1921 Bentley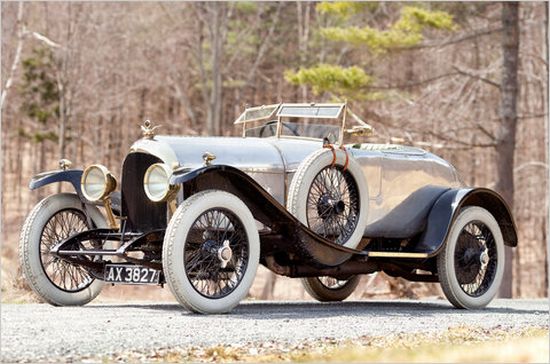 World's first production Bentley
Winning bid: $962,500
This 1921 version of Bentley was one of the first cars that Bentley produced, which came on the road to be used in the later years. Even in this old age, the car is known to have retained its original aluminum body work, and is in perfect condition to be used on a daily basis, and the only disadvantage might be the absence of a roof top. The engine was a 3 liter 2996cc machine with 4 cylinders to give out a total of 70BHP output.
10) 1964 Ford Fairlane
1964 Ford Fairlane
Winning bid: $700,000
When famous car collector Ron Pratte bought this car recently at the Barrett Jackson auctions, he strangely didn't collect the car from the auction house. Instead he donated the car back, so that it could be auctioned off again, to raise money for charitable purposes that it was meant for. From what little is known about the vehicle, it hasn't covered a large distance on mileage, despite being one of the best looking cars from Ford. The engine of this classic car was a 522 HP V8 engine, which had a 5-speed transmission.
11) 1925 Bugatti Type 35B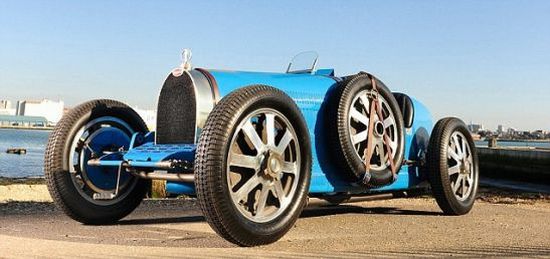 1925 Bugatti Type 35B
Winning bid: $692,975
This particular Bugatti 35 model from Bugatti became famous for being one of the best racing cars to have been made by the European car maker. It had also won many laurels along the way including the 1936 Indianapolis race, and the American National Championship in 1938. For a brief period, the car was left ignored by its owners, and in 1950, it was found by car enthusiast Jack Perkins in an unsuitable condition. Over the years, he invested his resources to bring the car back to its glory days, by restoring each of its parts by hand. He raced this 1991 straight-8 racer till 1992, when he passed away and from then, his wife has been showing it around at various events.
12) 1965 Mercer Cobra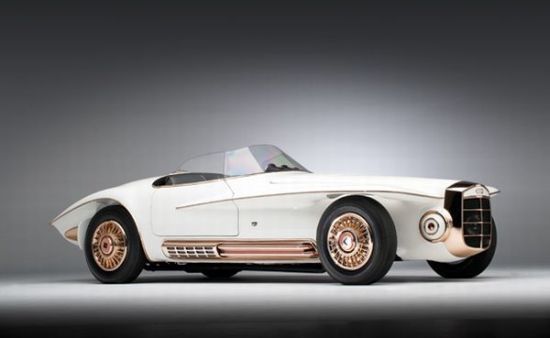 1965 Mercer-Cobra Roadster
Winning bid: $660,000
Though the car maker's history wasn't as elaborate as some of the big-wigs we see today, but this creation was certainly in the use for a number of reasons, including the generous use of copper and brass in different parts of the car, including the front grille, side door panels, steering wheel, dashboard, and even the central console panel, an idea created by Virgil Exner. Not much is known about the technical specifications except that it used a Ford V8 engine, to give it the 'racing car' energy. Hopefully, the car has retained much of its former glory and has been under a single ownership of the Lyonn family since 1989, who has maintained the vehicle since then.
13) Audi R8 Spyder Chrome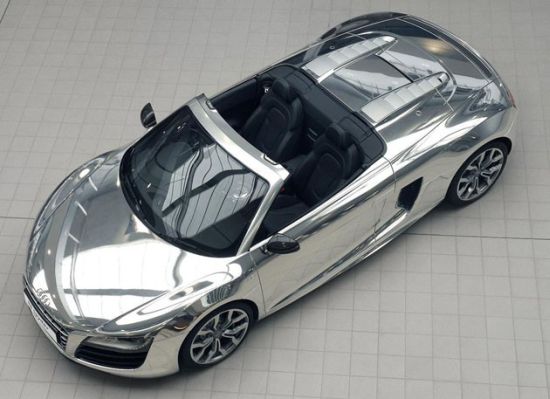 Chromed Audi R8 Spyder
Winning bid: $400,000
Award winning performer Sir Elton John, had created the Elton John Aids Foundation to raise funds for the research and treatment of people suffering from the deadly disease. At the 9th year running, Audi UK supported the cause by creating a limited edition Spyder R8 model to be auctioned off at the Tie and Tiara event. This limited edition of the car had a unique reflective chrome finish apart from having several high-end features. The engine is a 5.2 liter with 525HP displacing capacity, and took a mere 3.7 seconds to reach from 0-100 kmph of speed. The only painful part like some others before this, is that it runs on petrol and has a mileage of only 12 miles to a gallon.
14) 1939 Pontiac Ghost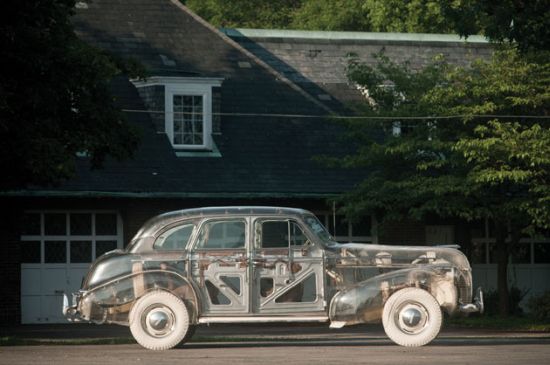 1939 Pontiac Ghost Car
Winning bid: $308,000
Built as a concept vehicle of the original car, the Ghost Pontiac was America's only transparent vehicle which went on auction this year. Rohm & Hass is the firm behind creating this unique concept, where they invented this unique transparent, malleable, yet very rugged varied of laminated glass called Plexiglas. Later, they used it to mold it into the shape of the vehicle as a monoque design, and created its other parts as they were originally made. This means one can see the inner metallic linings, engine components and the wheels, which were given a special white coloring to carry forward the look of being 'spooky'.
15) 2004 Ferrari F430 Spyder F1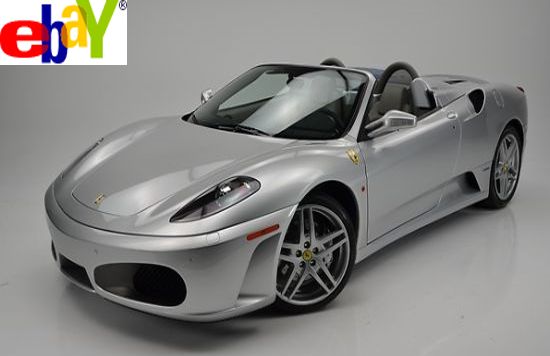 Ferrari F1 430 Spider
Winning bid: $ 110,000
This car became famous for more than its history, or simply because of its master creater. This F430 Spyder became the most expensive item to be sold on eBay, and the whole transaction reportedly was done through mobile computing devices. In other words, it was rather a hallmark of the changing buying patterns of today's generation of consumers. As for vehicle itself, it boasted of a V8 4.3 liter petrol engine, which zoomed the car to a top speed of 320 km/ph, and could fly from 0-100 in just over 4 seconds.