Not just the oldest Bowmore whisky, but also the rarest and oldest Islay Single Malt ever released, the bottle No. 1 of the exceptionally rare Bowmore 1957, 54 Year Old, which earlier failed to sell at auction for two times, after no bidder managed to meet the reserve price, has now been sold for $160,000 at the Bowmore Distillery on Islay. Matured in the finest oak from 1957 to 2011 in Bowmore's legendary No. 1 Vaults, the oldest maturation warehouse in Scotland, the Bowmore 1957, 54 Years Old is the oldest expression ever released by the distillery. Distilled in 1957, and bottled in 2011, this whisky comes from the cask that was held back among a collection of 1957 casks bottled in 1995. And since then, that cask was being examined every 6-months to check the quality, and taste of the spirit on its aging voyage. Only 12 bottles exists, out of which the No. 1 bottle that comes in a hand-blown platinum encrusted decanter has now been auctioned to an anonymous American, and the net-proceeds from the sales will go to 5 Scottish charities that encompass a variety of worthy causes.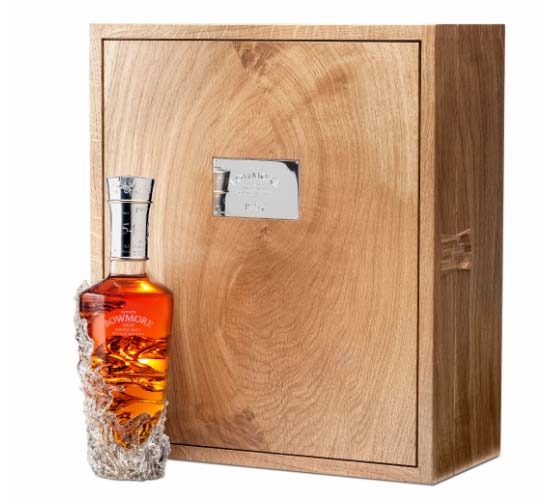 A Rare 1957 Bowmore Scotch is the world's oldest Islay Single Malt whisky that has fetched $160,000
Notably, the owner will get the Bowmore's 54-year-old marvel in a bottle that more of a piece of art. As, the bottles that hold Baomore 1957 have been masterly hand-blown and sculpted by two of the world's foremost glass artists Nichola Burns and Brodie Nairn into the shapes of waves reminiscent of those that contantly crash against the No. 1 Vaults' sea-facing walls.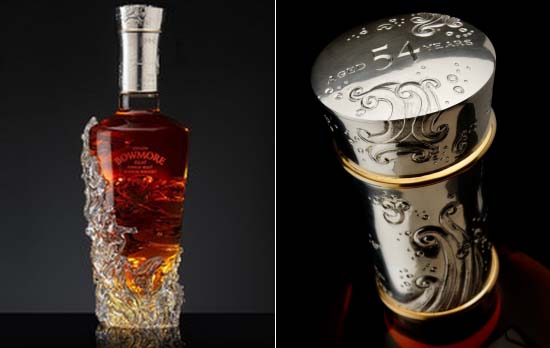 Further, the glass is inlaid with platinum flecks, while a platinum neck collar hand-engraved with the bottle number and spirit strength, along with a platinum stopper hand-crafted by Scotland's leading jewelry and luxury goods store, the Hamilton & Inches – Warrant Holders to Her Majesty the Queen, adorns each bottle.
Hand-blown by Nairn and Burns, the bottle, along with glasses and water pitcher comes in a n exclusive box created using Scottish Oak by renowned woodworker Peter Toaig.
Via: Bowmore