Walt Disney is a legend; a folk hero of the 20th century. His worldwide popularity was based upon the ideals which his name represents: imagination, optimism, creation, and self-made success in the American tradition. Walt Disney did more to touch the hearts, minds, and emotions of millions of Americans than any other person in the past century. Through his work he brought joy, happiness, and a universal means of communication to the people of every nation. He brought us closer to the future while telling us of the past It is certain that there will never be such as great a man as Walt Disney.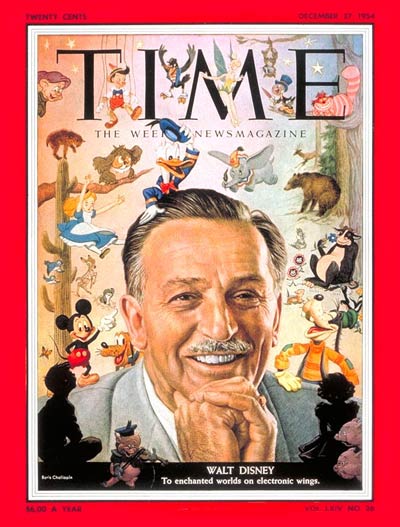 Walter Elias Disney was born on December 5, 1901 in Chicago Illinois, to his father, Elias Disney, an Irish-Canadian, and his mother, Flora Call Disney, who was of German-American descent. Walt was one of five children, four boys and a girl.
Walt had very early interests in art, he would often sell drawings to neighbours to make extra money. He pursued his art career by studying art and photography at McKinley High School in Chicago.
Walt began to love, and appreciate nature and wildlife, and family and community, which were a large part of agrarian living. Though his father could be quite stern, and often there was little money, Walt was encouraged by his mother, and older brother, Roy to pursue his talents.
During the autumn of 1918, Disney attempted to enlist for military service. Rejected because he was under age, only sixteen years old at the time. Instead he joined the Red Cross and was sent overseas to France, where he spent a year driving an ambulance and chauffeuring Red Cross officials. His ambulance was covered from stem to stern, not with stock camouflage, but with Disney cartoons.
Once Walt returned from France, he began to pursue a career in commercial art. He started a small company called Laugh-O-Grams, which eventually fell bankrupt. With his suitcase, and twenty dollars, Walt headed to Hollywood to start anew.
After making a success of his "Alice Comedies," Walt became a recognized Hollywood figure. On July 13, 1925, Walt married one of his first employees, Lillian Bounds, in Lewiston, Idaho. Later on they would be blessed with two daughters, Diane and Sharon .
On December 21, 1937, Snow White and the Seven Dwarfs, the first full-length animated musical feature, premiered at the Carthay Theatre in Los Angeles. The film produced at the unheard cost of $1,499,000 during the depths of the Depression, the film is still considered one of the great feats and imperishable monuments of the motion picture industry. During the next five years, Walt Disney Studios completed other full-length animated classics such as Pinocchio, Fantasia, Dumbo, and Bambi.
Walt Disney's dream of a clean, and organized amusement park, came true, as Disneyland Park opened in 1955. Walt also became a television pioneer, Disney began television production in 1954, and was among the first to present full-colour programming with his Wonderful World of Colour in 1961.
Walt Disney in His Office