Liberon Wax Filler Sticks are used for filling minor scratches, nail holes, small cracks, etc. Can be softened & moulded in the hand for hole filling or rubbed in for scratches. Excess wax can be easily removed by gently buffing with a soft cloth. Made from a base of hard wax & natural earth pigments, this modern form of traditional cabinet maker's beaumontage has the advantage of being usable without melting & not being subject to shrinkage. Suitable for use in furniture, wooden frames, beams, parquet floors & other woodworking applications.
Colours Available: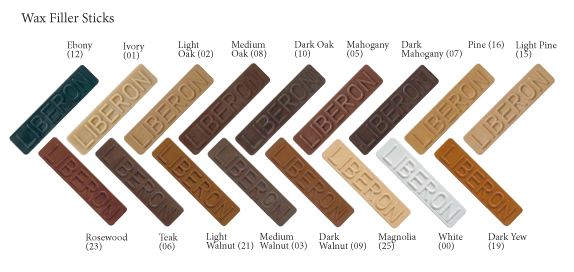 00 White
01 Ivory
02 Light Oak
03 Medium Walnut
05 Mahogany
06 Teak
07 Dark Mahogany
08 Medium Oak
09 Dark Walnut
10 Dark Oak
12 Ebony
15 Light Pine
16 Pine
19 Dark Yew
21 Light Walnut
23 Rosewood
25 Magnolia
Directions for use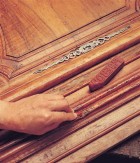 As a crack/hole filler:
Shave off a small piece & work in the fingers until it is soft enough to press into the crack or hole using a putty knife. Hold near a heat source for a short while to soften the wax prior to use.
As a grain filler:
Suitable for use with the Black Bison range of staining waxes to obtain a deep gloss in one application. Apply the staining wax first then rub the stick evenly over the surface filling all the small holes along the grain structure. Allow to dry then burnish to a nice gloss with a soft, cotton cloth.
Close colour match can be achieved by mixing colours. When in doubt, choose a colour shade slightly darker than the wood itself, this makes the repair less obvious.
Liberon products enhance wood surfaces & enrich the spirit of the finish!