Horace Walpole (1717–1797), English historian, Member of Parliament, connoisseur, playwright and novelist, said to have coined the term serendipity wrote the Gothic novelCastle of Otranto (1764).
Fourth Earl of Orford, Horace Walpole was born 24 September 1717 in Arlington Street, Piccadilly, Westminster, London, England, the third son of Whig politician and First Earl of Orford Sir Robert Walpole, who would soon be England's longest running Prime Minister, and his wife Catherine née Shorter. Young Horace spent most of his childhood under the loving eye of his mother whilst his father was away much of the time on business and often with his mistress Maria Skerrett, who he would later marry.
Walpole was tutored at home before entering Eton College in 1727, and then on to King's College, Cambridge in March 1735. Lady Walpole died in 1737, much to the distress of her son, possibly leading to his departure in 1738 from Cambridge before finishing his degree. He embarked on the Grand Tour of the continent with his friend whom he had met at Eton, poet Thomas Gray (1716-1771), though they would prove to be incompatible travel companions. Immersing themselves in the social life, they went to Paris and Rheims then on to Florence and Tuscany. It was there that he met the British minister to the court of Tuscany, Horace Mann, with whom he became great friends, and Lady Mary Wortley Montagu of whom he would write about sardonically later. Walpole quarrelled with Gray and they parted ways in 1741. It is likely that Walpole was homosexual and preferred the non-committal company of older women.
Walpole was back to London in 1741 and became a Member of Parliament for Callington in Cornwall though he was a lacklustre participant in the House of Commons. Four years later, in 1745, Sir Robert Walpole died leaving a large inheritance to his son. Walpole'sAedes Walpolianae (1747) is his catalogue and critique of Sir Robert's art collection. In 1747 he leased his 'little Gothic castle', a forty acre estate in Twickenham called 'Strawberry Hill'. After he purchased it two years later he would begin his passionate and monumental task of doubling its size, assisted by "The Committee of Taste" John Chute, the artist Richard Bentley and himself. He remodelled the exterior with Georgian Gothic architectural details such as battlements and towers and added extensive gardens and landscaping. Inside, the rooms were adorned with biblical scenes and portraits of ancestors. Walpole filled its rooms from his eclectic collection of furnishings, antiquities and works of art. In his library he amassed a huge collection of materials including historical prints and collections of poems and plays published during the reign of George III. Windows were meticulously replaced with 16th and 17th century stained glass pieces that were an integral part of Walpole's vision. He added a library, gallery, a star chamber, an armoury, bedrooms and an oratory. Though he was by no means Catholic he borrowed heavily elements from the gothic church aesthetic. While he was criticised as having questionable tastes in art and decor he rarely expressed pretension and delighted in his jumble of time periods and styles.
Walpole also started his own printing press at Strawberry Hill, and having reconciled with Gray, an inaugural edition of Thomas Gray's Pindaric Odes (1757) was issued. Among his publications were Catalogue of Royal and Noble Authors of England (1758), Anecdotes of Painting in England and A Catalogue of Engravers (1762-1771), The Life of Edward Lord Herbert of Cherbury (1764), and Historic Doubts on the Life and Reign of Richard III(1768) (written between 1750 and 1770).
Inspired by his recent construction at Strawberry Hill and a nightmare he had had, Walpole wrote what is often deemed the first Gothic novel Castle of Otranto (1764). The book opens under the guise of a translated lost manuscript, on the wedding day for the son of the protagonist Italian Manfred. An ancestral curse is unleashed and an ancient and fantastic romance ensues. Amongst the pathos and terror, Walpole wanted "to blend the two kinds of romance: the ancient and the modern."
Like his father before him, gout had been afflicting Walpole for a number of years and he retreated to France for a cure, whilst becoming acquainted with a number of society figures including the colourful Madame Du Deffand. He published his essay On Modern Gardening(1780), about the origin and evolution of the Augustan and Serpentine Styles of garden design, and an illustrated edition of A Description of the Villa of Mr. Horace Walpole (1784) upon completion of Strawberry Hill's remodelling. The same year his brother Sir Edward died. Tourists were travelling to Strawberry Hill to buy tickets for touring the castle and its grounds, but Walpole's carefully contrived world was caving. Although he had tended to shy from deep emotional attachments, "the world is a tragedy to those who feel, but a comedy to those who think" he still gravely missed his friends including Thomas Gray who died in 1771, and those he lost during the 1780s including his neighbour Kitty Clive in 1785 and in 1786 Sir Horace Mann.
Walpole succeeded to the title of Fourth Earl of Orford in 1791 though he never entered the House of Lords. During his lifetime his main literary efforts had gone into his correspondence with his friends, among them Thomas Gray, Sir Horace Mann, Thomas Chatterton, and Madame Du Deffand, as well as the Berry sisters who were neighbours of his and for whom he wrote Reminiscences, Written in 1788, for the Amusement of Miss Mary and Miss Agnes Berry. The letters address such topics as politics, history, geography, travel, Great Britain, music, literature, and drama. Immediately after his death the more than 3,000 extant letters were viewed as libelous and superficial though the bulk of them are today valued for their personal and relevant historical contextual content.
Gout and recurring attacks of rheumatism had dogged Walpole for years and on 2 March 1797, at his London house in Berkeley Square he died. Walpole was buried in the family tomb at St. Martin's Church, New Houghton, Norfolk, England.
"The whole secret of life is to be interested in one thing profoundly and in a thousand things well."
Biography written by C.D. Merriman for Jalic Inc.
An exhibition at the V&A based around the contents of Horace Walpole's gothic folly Strawberry Hill brilliantly evokes the atmosphere of the house.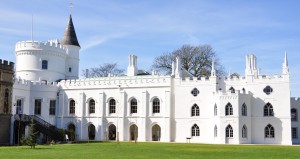 There is no sadder example of what can be lost when a collection is dispersed than the sale of the contents of Strawberry Hill, the pretty "gothick" castle on the banks of the Thames at Twickenham created by Horace Walpole in the mid-18th century.
Though the house still exists, and indeed after extensive restoration will be open to the public next September, the dispersal of what was inside it in 1843 must be counted as an irremediable loss to this country's cultural heritage. For the 4,000 individual lots of furniture, paintings, curiosities, and objets d'art in the sale were intimately bound up with the identity of the dilettante and aesthete who bought or commissioned them, displayed them, opened his house to the public and personally showed his collection to visitors on guided tours.
Strawberry Hill was a Schatzkammer, or cabinet of curiosities, with a story behind every picture and every object. At the V&A's Horace Walpole and Strawberry Hill, 280 paintings, works on paper, objects, curios, coins and medals, and porcelain with a provenance that can be traced back to the house seem to cover every wall and fill every available surface. And when I say it is a triumph of style over substance, I mean it as high praise – for the curator Michael Snodin and the exhibition designers Bloc convey perfectly the genius of a man whose achievement was to turn collecting into a form of self-expression.
Born in 1717, Horace was the youngest child of Sir Robert Walpole, the politician of genius who became Britain's first prime minister, the builder of one of the grandest country houses in England, and the most important art collector of his age. If Sir Robert was a bulldog, his son was a butterfly.
As though to parody the grandeur of his father's seat, Houghton Hall in Norfolk, in 1747 Horace acquired a suburban villa 11 miles from London which he called "a little play-thing-house that I got out of Mrs Chenevix's [toy] shop" and "the prettiest bauble you ever saw". Houghton is a baroque palace. Strawberry Hill is a jerry-built castle and an ersatz ancestral pile that is, in parts, literally made of papier mâché. And instead of Houghton's Palladian mass and symmetry, Horace's rambling and asymmetrical concoction of turrets and crenellations was a "paper house" that he predicted would be blown away 10 years after he was dead.
There he was wrong. Though Strawberry Hill has been both admired and despised over the years, everyone agrees that it kick-started the gothic revival.
And once he had rebuilt Strawberry Hill as a kind of gothic folly, Walpole filled it with objects and works of art that reflected his personality. The house was crammed with small-scale objects, often of antiquarian interest, or bought for either their historical associations or for reasons of sentiment or friendship. This meant that the quality of his acquisitions varied wildly – from a superb suit of Renaissance armour that Walpole wrongly believed to have been worn by Francis I, and a late-12th-century ivory comb he thought (again wrongly) once belonged to Queen Bertha, to the hair of Mary Tudor in a gold locket, and the red hat of Cardinal Wolsey. One of the strangest objects in the show is an obsidian disc which Walpole believed to be a mirror belonging to the Elizabethan conjurer Dr Dee, but was really made by Aztec craftsmen.
Walpole's feline wit is also reflected in his collection. After seeing this show I shall always picture him greeting a party of French tourists got up in a pair of embroidered 17th-century gloves with an imitation lace cravat carved in limewood by Grinling Gibbons around his throat. The puzzled foreigners could only assume that this was the normal attire of English country gentlemen.
Though there are a few important paintings on view (for example a good double portrait by the Elizabethan painter Hans Eworth), and some magnificent ones by Allan Ramsay and Joshua Reynolds, it's not the individual works of art but the way they are integrated into a decorative display in each room that is so unforgettable. Throughout the show, dozens of contemporary watercolours show the interiors of the house during Walpole's lifetime, so that we can take a virtual tour of the building.
I must admit that when I first heard about this show I thought the idea of bringing together almost 300 disparate objects, many of which had no aesthetic interest, was never going to work. In fact, the designers have brilliantly evoked the atmosphere of the house, by creating a claustrophobic rabbit warren of irregularly shaped spaces. Initially the monochromatic installation surprised me. But then I realised that that, too, faithfully mimicked Walpole's decorative scheme at Strawberry Hill. For the association I've always had with the gothic style and colour – whether the pastel pink of a Regency villa or a brilliantly coloured Pugin ceiling – is a later development. Walpole's taste ran towards the brown-grey tones that helped him to create what he referred to by the made-up word "gloomth", meaning the soft light and enveloping shadow you find in gothic churches.
Walpole wrote his best-selling novel the Castle of Otranto at Strawberry Hill in 1765, so as well as the gothic revival in architecture the house set in train the whole genre of gothic fiction which would include Frankenstein and Northanger Abbey. At a stretch it could even be held responsible for the Hammer House of Horror films.
But, as this exhibition demonstrates, there was nothing even slightly scary about Strawberry Hill, where Walpole's touch was always light, slightly self-mocking, and intended to entertain. I couldn't have liked it more.
Credits:
http://www.telegraph.co.uk/
http://www.online-literature.com/