Most antiques offered for sale from within China are fakes or copies.
The same can apply to things like usb memory sticks. Antiques are reproduced by the boatload and usb memory pens are formatted to tell lies. A 128 Mb stick can be formatted to indicate that it is perhaps 1Gb.
Off and on, I've spent years teaching in China. I've seen the markets with their tray loads of antiques, stamps, coinage and all. Market places are full of rare Chinese coins and curios by the tray load. There's carved stonework and vases … You name it, it's there somewhere. They sell them alongside the vegetables. Buy a USB memory stick? What quality do you want? It affects the price.
Most old things were destroyed during Chairman Mao's Cultural Revolution. That's a simple fact. He told the population to 'destroy the old'. Those old antique clocks and tables you see advertised on ebay .. believe me, they're not old. They're not antiques. They may be 20- 30 years old perhaps or even copies of older things. It's actually illegal to sell/send overseas anything that is of antiquity or historical value. I once went into a small workshop that was producing 4000 year old stoneware pots. The guy selling them genuinely didn't understand they weren't genuine antiques. They looked like the true originals so they must be valuable?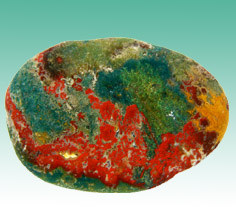 Bought in a Nanjing market selling curios and bric a brac etc .. The sort of place you just know that you'll find a bargain .. It looks like Jade. An antique bargain! But no .. this is the local 'rain flower stone' that looks like jade. They make them for the tourists. I paid about £1 each for them – the entwined serpents and the horse. Perhaps I can sell them on Ebay for a small fortune? Actually .. 'jade' covers a whole spectrum. There's expensive rare jade and jade they sell to the tourists; just like onyx and alabaster are from opposite ends of the same rock.
Of course there are old things to be bought on every market stall, though do bear in mind that in China, old equates to around twenty – thirty years. Yes, there are genuine coins and all that in the boxes of junk/bric a brac, but they have no real antique value in the true sense of the meaning; interesting perhaps, but of no monetary value. It's like going to a car boot sale. You can pick up something interesting for a few pounds. If you like that carved ming dynasty oil lamp on offer for £3 then go ahead and buy it for yourself. But don't blame anyone but yourself when you find out that it is a copy and not worth hundreds of pounds.
So who's selling all this stuff? Well, a lot of it is down to 'foreign teachers' – teachers from English speaking countries who are teaching in China and see the low priced and often counterfeit goods like dvds … and perhaps in the rush of optimism where the lure of a quick buck beckons, they put items up for sale. Perhaps they don't realise. Who knows?
Then of course there are the Chinese. I have many ex-students in China who work in export offices. The whole economy is geared up to export, export, export. It is easy to understand the reasoning why somebody who earns £40 a month for working 6 x12 hour days a week will try and sell something on ebay for £10. E-commerce in China is relatively new. They want a life and a little bit of money just to make things easier for themselves. I think we all understand that. This is not suggest that everybody in China is trying to cheat you; far from it. A few of my ex students try and sell things on Ebay (or alibaba.com.cn). To them an interesting old vase in the market is an antique. If it's offered on Ebay for £3.50 it's an interesting old vase, not an antique. They're not trying to cheat you. Do what you would usually do – check on their feedback first and don't confuse 'antique' with 'collectors item' or even something that is just of interest to you personally.
There's the out and out con merchants who know what they are trying to sell has no value. That's people of all nationalities. As a rule of thumb, a genuine antique from China would cost the same as it would in the UK or USA. It's just that when we look at Asia, we are blinded by the same mentality of finding a £1 bargain in a car boot sale that can be later sold for hundreds … ?
It's not all doom and gloom though. Modern China can offer a lot of low cost commodities of all descriptions. It's a matter of knowing what you want and where to get them. Plus of course somebody to ship them for you.
What does China offer? Well, clothing, electrical goods and everything else to say the least. The more you buy the cheaper the order becomes. Toys are cheap. If you can make contact with one of the hard working and incredibly talented seamstresses who have exceptionally small shops/stalls in most markets, you would have hand made goods that are a work of art. Computers and mobile phones cost more in China than they do in the west. Hand produced carvings and chests from Dongyang in Zhejiang province are good value, but would cost a fortune to ship back home. There's carved stone from Nanjing and silk and freshwater pearls direct from the factories in Suzhou. Though be aware, there are 2 qualities of goods in China: There's the export quality that must meet the exacting standards of quality in the importing countries, and the 'market stall' quality that you may get fobbed off with by those who import in your own country. And yes, the Chinese detest being fobbed off and cheated with 2nd rate goods as well.
You need a reputable agent. Somebody who will arrange your bulk order to be shipped to you. Somebody who will take care of the hassle of shipping/postage – and somebody you must pay. Somebody who will take care of all the taxes and paperwork imposed by Chinese customs. If you don't speak and write Chinese don't even consider trying to make your own arrangements.
Part of the export centre at Yiwu – a vast place. Traders from all over the world visit it to buy in bulk. Inside the centre there are export agents who will arrange the shipping of bulk orders.
If you're serious about importing from China, you can always visit the 'export' city of Yiwu, in Zhejiang Province. It's a 5 hour train/bus ride from Shanghai .. Yiwu is geared up to trade price bulk orders and there are export agents everywhere within the centre.From fishing rods to diesel generators, Yiwu has it all. It's like the giant indoor shopping centre in Newcastle – the Metro Centre – except that the small shops are all owned by major producers and used to display goods at trade/bulk prices. Its the export centre of China. There's also Sanyan, on Hainan island to the south of China. I've never been to Hainan but I'm told it's good for 'cheap crap'. You can also search the Internet for what you want .. 'welding equipment China' to loacte a particularl company. Many of the staff are ex -students who speak English to varying degrees.
One of my students in the 'vase shop' in Yiwu export centre. Each vase is a sample of what the manufacturer produces. Approximate price per individual vase would be £4 or less . Yiwu has everything from artists brushes at 'coppers each', electronics, knives and swords .. .. well, you name it and it's there.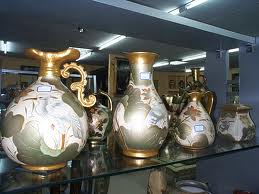 Buying a single item from China? It's probably not worth it unless it's something that you specifically want for yourself. If you're buying in bulk the cost of the order goes down as the number of items increases. However, the negotiating about the price must be done FIRST. You need – and it is strongly emphasised- need somebody to make enquiries on your behalf, even if it just done via the telephone. Most breakdowns and misunderstandings are actually due to cultural and language differences. Most big companies have their own staff who deal with the export side of things.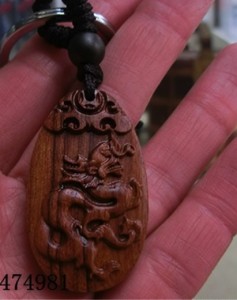 Dongyang City, Zhejiang Province: An area noted for wood carvings and woodwork. Some of the carvings are huge – a couple of metres tall. The city also produces carved chests and numerous other items of wood carvings. Most wood in China is softwood, the simple reason being that most of the country was deforested during the cultural revolution and afterwards. Hardwood is quite rare and expensive.
It's probably in your best interest to do visit China yourself. Finding somebody to help you isn't a problem – and it isn't expensive.
In China it costs 1 Yuan (8 pence) to open a bank account. Paying by Paypal guarantees the money will get to that account but it doesn't guarantee that you will ever receive an answer. Face to face dealing is safer. Over the Internet you may be talking to somebody in an Internet bar – there are thousands of them in China; a lot of them have over 100 people in at any given time. Check out who you are dealing with first – just like you would do in your own country. If it doesn't sound genuine, it probably isn't.
Sending cash in an envelope is strictly a no – no. A high proportion of letters go astray somewhere in the system. The Chinese do not have postal addresses as we understand them. Chinese homes do not have letter boxes or even postal deliveries to the door. Mail is sent to their workplace address or remains at the local post office until collected. It's vastly different from what we are accustomed to.
An airmail letter takes at least 10 days to get to its destination, perhaps 3 weeks depending on the actual location. Sending the email letter 'international signed for' costs just over twice the price of ordinary airmail postage and is a good way of ensuring that the letter does reach the person to whom it is intended. Be aware that cash even in 'international signed for' is not insured. If you send a cheque it can take a whole month for it to clear, plus all the handling charges incurred by the recipient. Most Chinese have never seen a cheque.
Using a money transfer service like western union incurs fees. Currently they charge you £12 for wiring £100 to China. The recipient will also be charged about the same amount. Don't forget to take those handling charges into account.
Big businesses prefer letters of credit or bankers drafts. Usually you have to pay as a deposit a percentage of the order when it is placed and the balance before the order will be shipped. And yes, people from the west do try and cheat as well. I know one African teacher in China who arranged sample goods for a UK 'businessman' who flew out to China to inspect the samples. He disappeared with several hundred pounds worth of samples which he later sold leaving her to face the music, and conveniently forgot to pay the African girl for all her running around. It cuts both ways ..
A Market street in Qingdao. The stalls really do sell everything from vegetables to copied dvds and 'curios'. It's a way of life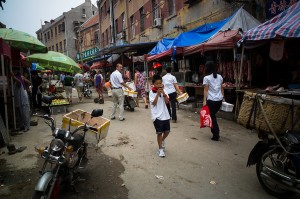 The mark-up price of Chinese goods in the UK is phenomenal. My friend who is married to a Chinese girl imports clothes and jewellery – he pays £4,500 a month rental for 3 'barrows' (stalls) at indoor shopping centres throughout the UK. That's after paying VAT and an import tax. The mark up (profit) per item can vary from 60% upwards.
As a general rule of thumb, it costs between £50-£100 per cubic metre in shipping charges to have something shipped to the UK (takes 3 months to arrive). Small items can of course be sent via airmail. Single goods that are 'birthday presents' or 'gifts' do not attract any attention from Customs.
Good examples are the electric scooters and 125cc motorcycles you see in 'Two Wheel City' shops. A 125 cc motorcycle will cost you £1100-£1300. The same bike in China is about £300, depending on the model. Those mountain bikes starting at £90 cost £15 -£25 in China.
The downside is of course that many people are importing from China and reselling. The market place is now awash with jewellery and clothes in particular. You have to find your own niche – maybe online or with different goods.
ebay ID: glenn3303