A little girl in Victorian England, Beatrix Potter was taught at home by governesses and studied art while her brother was sent away to school. She was a shy, reserved personality when interacting with the outside world, but her secret diary written in her own code, revealed a lively young girl with highly critical opinions of her fellow artists.
Despite not going to school Beatrix was an enthusiastic student of nature, teaching herself while painting and drawing the things she saw around her. Her childhood sketches reveal an early fascination for the subject which would continue throughout her life. She also painted many exquisite landscapes that show her pleasure in the countryside.
Beatrix and her brother, Bertram, kept many animals in their schoolroom, from mice to birds and lizards to snakes. Beatrix Potter's pets often subjects for sketches and paintings, and were later to inspire the much-loved characters in her books.
In 1893 Beatrix Potter wrote The Tale of Peter Rabbit in a picture letter to a little boy she knew who had been ill for a long time. In 1901 she went on to privately print 250 copies of the tale in time for Christmas. A sign of the future success of this little story, these first copies sold very quickly at a shilling each, meaning she quickly had to print another 200 two weeks later.
The Tale of Peter Rabbit was published by Frederick Warne & Co. in 1902 with an initial 8000 copies printed and the tale has never been out of print since. She went on to publish another 22 little books over the next 28 years, the proceeds from which enabled her to buy Hill Top Far in the Lake District. Eventually she went on to own 15 farms and over 4,000 acres of land in the area.
The ideal subject for the Hollywood film Miss Potter in 2006, the story of Beatrix Potter's life held both great sadness and great success. After the tragic death of her fiancé and publisher, Beatrix remained unmarried until the age of 47, when she married a Lake District solicitor, William Heelis. She dedicated her later years to preserving the ecology and natural beauty of the Lake District, becoming a farmer and breeding Herdwick sheep. She worked closely with The National Trust and left them a substantial part of her estate to be preserved as a living landscape.
The popularity of Beatrix Potter's stories and characters has grown immeasurably since she published The Tale of Peter Rabbit over 100 years ago, aided by her own foresight and acute business sense. A woman ahead of her time, she saw the potential in her most famous character creating the first patented soft toy in 1903, making Peter Rabbit the oldest licensed character. Not only that, she left an astounding legacy of stories, characters, art and unspoiled landscape to the world.
Beatrix first visited the Lake District in the summer of 1882 on a family holiday.
In 1895, Rawnsley helped to found the National Trust, an organisation set up to protect and preserve land and buildings of great beauty or historical importance. Beatrix kept its cause close to her heart all her life. With the income from The Peter Rabbit Books™ she was able to buy and manage land for The National Trust. As a farmer herself, she tried to ensure that the traditional farming methods and the old way of doing things would not be forgotten.
When she died in 1943, Beatrix Potter left 4000 acres of land to The National Trust, including 15 farms, cottages and many local areas of beauty including Tarn Hows. Her gift back to the land she loved was to help preserve it for future generations.
Beatrix Potter – First Stories
Did Beatrix Potter like children? The many letters she wrote to them, and pictures she drew for them, all seem to suggest that she did, very much. Some of Beatrix Potter's little books began as letters she wrote to children, with little pen and ink drawings to illustrate them. She made up a whole series of correspondence between the characters in her books as delightful miniature letters.
"Once upon a time there were four little Rabbits, and their names were Flopsy, Mopsy, Cotton-tail and Peter." This is the introduction to one of the best-loved children's stories of all time – The Tale of Peter Rabbit. However, the story of how Beatrix Potter's most famous character came to have a book published about him is another tale entirely.
On September 4th, 1893, Beatrix sat down to write a picture letter to Noel Moore, the five-year-old son of her ex-governess, all about a naughty rabbit called Peter. Noel was ill in bed and so Beatrix wrote to him: "My dear Noel, I don't know what to write to you, so I shall tell you a story about four little rabbits…"
Some years later, Beatrix thought of publishing the story as a book. She rewrote it into an exercise book and sent it to six publishers. It was rejected by every one of them. It was not until Beatrix had arranged to print the book privately that Frederick Warne agreed to publish it. The Tale of Peter Rabbit was published in 1902, costing one shilling (the equivalent of just 5p today,) and became one of the most famous stories ever written.
Though Beatrix always believed in her book, even she was surprised by quite how popular it became. It was an overnight success, and she believed that this was because the story had originally been written for a real child.
Peter Rabbit has always been Beatrix Potter's most popular character – he also features in The Tale of Benjamin Bunny, The Tale of the Flopsy Bunnies, and The Tale of Mr. Tod.
Beatrix Potter – Victorian Childhood
Beatrix Potter was born on July 28th, 1866 at No 2, Bolton Gardens, Kensington in London. A typical Victorian family, the Potters lived in a large house with several servants. Beatrix was cared for by a nurse, and she spent long hours alone, only seeing her parents at bedtime and on special occasions.
Her brother Bertram was born when she was six, and the children were educated at home by a governess until Bertram was old enough to attend school.
Beatrix stayed at home under the care of a sequence of governesses who encouraged her to read and write and taught her music and art.
Beatrix Potter discovered her love of nature on annual summer holidays in Scotland and the Lake District. She and Bertram explored the woods and fields, caught and tamed wild animals, and sketched and painted all they saw.
It was while staying near Windermere in the Lake District in 1882 that the Potters became friendly with the local vicar, Canon Hardwicke Rawnsley. Rawnsley was already concerned by the effects of industry and tourism on the natural beauty of the Lake District. He taught Beatrix the importance of preserving the countryside, a cause that was to remain close to her heart for the rest of her life.
Artists: Beatrix Potter – Visit her home at Ambleside, Cumbria.
Hill Top
Near Sawrey, Hawkshead, Ambleside, Cumbria LA22 0LF
Telephone: 015394 36269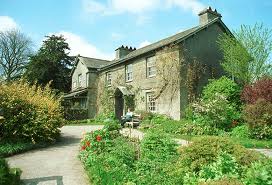 Left to the National Trust this is where she did most of her work.
Delightful small 17th-century farmhouse where Beatrix Potter wrote many of her famous children's stories
Farmhouse where Beatrix Potter wrote many of her children's stories
Many of her beloved 'treasures' are on display
Hill Top was model for 'Samuel Whiskers' illustrations and others
Shop specialising in Beatrix Potter gifts
Hill Top was recreated for the major film Miss Potter